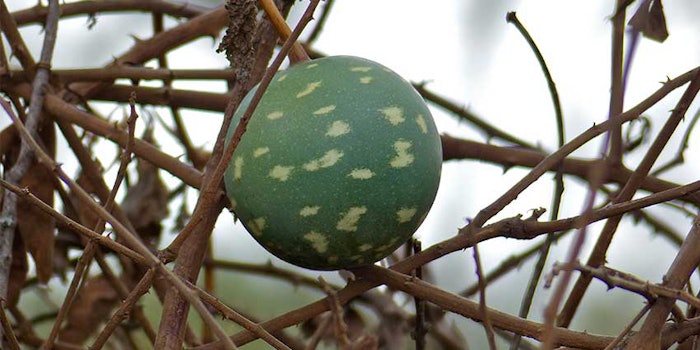 Bernard DuPont
Praan Naturals, known for its ethically sourced ingredients, has developed Calabash Oil (INCI: Lagenaria Sphaerica (Calabash) Seed Oil) for skin, hair, nail care, cosmetics and aromatherapy.
Related: Praan Naturals Introduces Cruelty-free Squalene, Squalane Options
The oil is cold-pressed below 30°C from the seeds of wild-harvested Lagenaria sphaerica—a climbing plant with white flowers that develop into small, round, green gourds with melon-like characteristics. Traditionally, the fruit and seeds of calabash, also known as an umutanga, wild melon or wild bottle gourd, have been used in a range of culinary, wellness, medicinal and utilitarian applications.  
The company's Calabash Oil is comprised of 78% essential fatty acids, making it ideal for personal care formulations. Because of the fatty acids' composition, the oil has the ability to nourish, soothe and protect the skin and hair. It absorbs quickly, leaving skin feeling softer and hydrated without feeling greasy. It also helps to make the skin appear more youthful.
Calabash Oil is especially well-suited for formulations intended to support delicate, damaged, maturing, sensitive and dry skin types. Within hair care formulations, Calabash Oil nourishes, conditions and helps to protect the scalp and hair. Other properties include its translucent, golden hue; a mild characteristic aroma; medium viscosity; rapid absorption; and its primarily polyunsaturated composition.
For more information, contact Praan Naturals.