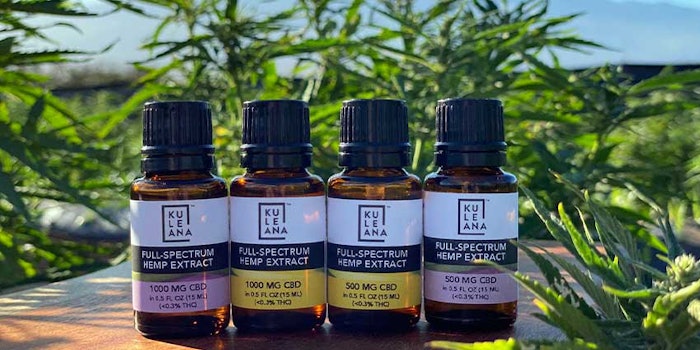 Oh, Oh Organic has announced it will be offering a full-spectrum hemp extract and other natural ingredients from Hawaii produced by Maui-based company Kuleana by Maiden Hawaii Naturals, LLC.
Related: Garden Om Hemp Creates Online CBD Marketplace
"CBD has exploded in popularity as a cosmetic ingredient but it's still the Wild West in the industry with suppliers who are not delivering a consistent product with reliable testing," said Gay Timmons, founder of Oh, Oh Organic. "That's the difference with Kuleana—its founders and their total operation are focused on sustainability and mitigating waste while producing trustworthy CBD products for the cosmetic industry."
The Kuleana "farm to bottle" operation is offering full-spectrum hemp extract blends as natural cosmetic ingredients and producing CBD body oils and other "clean" beauty products for consumers. The company's hemp extract contains the full spectrum of hemp-derived cannabinoids including CBD, produced using a supercritical CO2 extractor that creates a quality extract with no distillation or toxic solvents. The extract is then blended with Hawaiian macadamia oil or Maui sunflower oil to ensure compliance with the legal requirements to not to exceed 0.3% THC.
Kuleana's sustainable farming operation is free of pesticides, herbicides and GMO crops and according to the company, is the first hemp farming operation in the United States powered by 100% biodiesel.
Previously: Vero Naturals Takes Green to Extreme with Chlorophyll-rich CBD Nano Products
"I prefer full-spectrum hemp extract because it's about the plant's synergies and tapping into benefits that are derived with all of the plant's components working together as nature intended," Timmons continues. "And the team on Maui ensures quality control standards are met at every stage of production—from a complete analysis of the plant in the field during extraction until after the final product has been blended and bottled on site. It's a CBD product made responsibly with integrity, and one that supports Hawaii's economy and fragile environment. That's incredibly important to us."
Co-creator of Kuleana, Bob King, explains, "Hemp offers a wealth of opportunity for our island, from health and wellness and culinary usage to textile and biofuel production. With our cultivation of industrial hemp, we are making a positive impact by helping to expand diversified agriculture here in Hawaii while manufacturing high quality, sustainably produced ingredients."