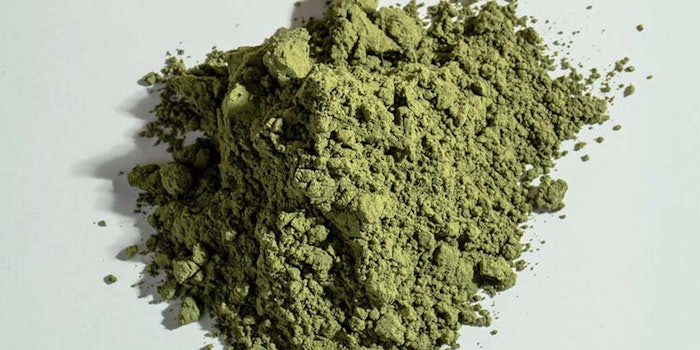 "Chlorophyll is renowned for its rich, green color," Vero Naturals says. "However, products that claim [to] contain it are [usually] white, yellow or brown." Why? "It is usually stripped away during the extraction process, leaving few benefits behind."
Vera Naturals is promoting the deep green color of its new Green Nanopowder CBD (INCI: Not Provided) as evidence of its chlorophyll content and the related nutrients and antioxidant benefits associated with it. These entities are retained by a patented "extraction" process that reduces the entire plant itself into an effervescent green powder—providing what the company refers to as the "entire plant entourage effect."
"Our CO2-free and chemical-free processing are the most natural ways to ensure the entire plant is used to produce our powders and liposomes," the company states on its website. "Furthermore, the nanopowder's reduced size allows for maximum absorption and bioavailability, meaning less product is required for infusion."
The resulting fine, green, full-spectrum CBD powder is reportedly easier to mix into solutions such as lotions and facial masks. It is also said to retain the cannabinoids CBC, CBG, CBGA and CBDA; terpenes; phytonutrients; vitamins C, K and E; omega 3 and 6 fatty acids; and the aforementioned chlorophyll.
Coming soon, the company also will launch its chlorophyll-rich Green Nanoliposomes—a liquid form of the all-natural Green Nanopowder CBD. "These extraordinarily tiny lipid bubbles measure less than 100 nm ... [and] are still packed with all the power and benefits you expect from Vero CBD," the company states.
Editor's note: Although chlorophyll itself is not a cosmetic ingredient, its derivatives such as copper chlorophyll, chlorophyllin-copper and iron complexes, and sodium chlorophyllin-zinc complex are. These have reported functions ranging from antioxidant and colorant (CI 75810, with certain limits) to deodorizing and skin conditioning*—although these ingredients and functions were not explicitly mentioned by the company. Cannabidiol or CBD, however, is a cosmetic ingredient.
*per the Personal Care Product Council's INCI Dictionary