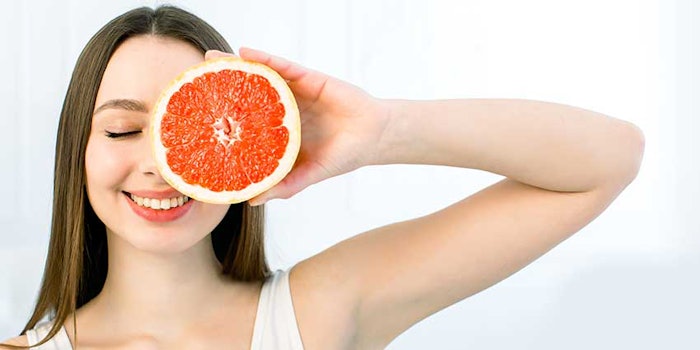 Unifect

is offering Unifect-GSE (INCI: Not Provided), a bioflavonoid concentrate synthesized from the seeds and pulp of grapefruits, as a cosmetic preservative for shampoos, creams, lotions, scrubs and soaps.
Related: Grapefruit Extract Cream: Effects on Melanin in Skin
This broad-spectrum ingredient offers antibacterial and antifungal properties. Unifect-GSE is derived from the seeds, pulp and white membranes of grapefruit (Citrus grandis). It is soluble in a variety of mediums, naturally contains citrus bioflavonoids and imparts a mild citrus odor. The extraction process used to create Unifect-GSE preserves the active properties of the extract, contributing to its effectiveness against bacteria and fungi. Unifect-GSE has a kosher certification, supervised by Florida Kosher Services.
Previously: Garbage to Glamour: Recycling Food by-products for Skin Care
In addition, Unifect has created Vancitrix, an organic and non-GMO food additive based on the Unifect-GSE liquid. Flakes of dried organic grapefruit (Citrus paradisi) pith, seeds and pulp are reacted with various fruit acids and then added to vegetable glycerin; the ingredient is designed for internal use only. Vancitrix was developed as a Food Grade GSE and is compliant with U.S. FDA regulations.
For more information, contact Unifect Ltd.