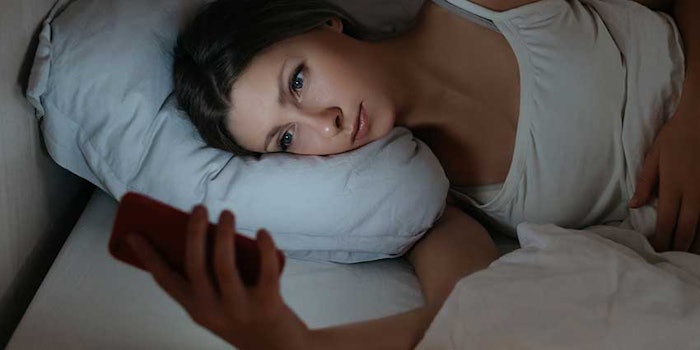 Consumers are increasingly exposing themselves in front of technology. Because of this, Givaudan has developed Synchronight (INCI: Not Provided), a botanical complex designed to prevent disruption in the body's natural melatonin production rhythm, even when skin is exposed to digital devices/stress.
Related: [video] Student Poster: The Effects of Blue Light on Skin
Synchronight is an extract of gardenia fruits, specifically crocin, stabilized in a natural deep eutectic solvent. According to the company, its specific composition has been optimized to absorb digital device wavelengths, allowing the active to protect the natural production of melatonin by the skin. Furthermore, crocin has reportedly been examined by microbiome experts who demonstrated its conversion by skin microflora into crocetin, a molecule able to bind to melatonin receptors and thereby mimic the biological actions of melatonin.
Synchronight was shown to deliver well-being benefits through the improvement of sleep quality. The median number of awakenings for 28 nights was drastically reduced as well, with only 3.0 awakenings on average versus 23.0 for the placebo.
Previously: Resisting Our Realm: Infrared, Blue Light and UVA-II Defense
"Our accomplished scientific team in skin research and microbiomics identified a unique opportunity to bring this ingredient to life," said Laurent Bourdeau, head of Active Beauty. "Creating a natural ingredient with the strength to fight the effects of digital stress and improve sleep quality is a turning point for innovation in the beauty space today."  
The efficacy of the ingredient has been studied by the company through in vitro and ex vivo tests. Under intense blue light emissions, it was found to protect the mitochondrial network up to 51% and reduce skin protein oxidation by up to 81%.
A double-blind clinical study versus placebo also was performed on volunteers exposed daily to digital device emissions. The results highlighted the anti-aging benefits of Synchronight, with: a 26% reduction in wrinkles after 56 days; 75% of volunteers finding their skin to be smoother; and 80% of volunteers reporting skin to be more hydrated.
Also related: Into the Blue: Novel Test Reveals Blue Light Damage, Protection Strategies
"By combining our technologies in Active Beauty, we can respond to the demands of the market for more creative and versatile innovative solutions," says Maurizio Volpi, president of Givaudan's fragrance division. "Presenting new products to our customers is a priority for us and we're proud to launch another active cosmetic ingredient that can inspire new collections with product differentiation. The launch of Synchronight also perfectly reflects our commitment to our newly defined purpose, of creating for happier, healthier lives, with love for nature."
Synchronight will be launched in the form of a night cream called, "My Blue Guard High Performance" also featuring DreamScentz (INCI: Not Provided), a fragrance technology aimed to enhance the sleep experience.
For more information, visit Givuadan Active Beauty.