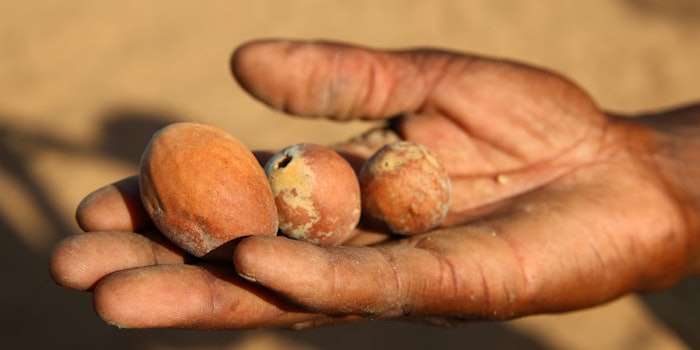 New all-natural additions to our Cosmetics & Toiletries Bench Reference include a range of the oils marula, mongongo, Kalahari melon seed, baobab and ximenia, presented by DLG Naturals.
In addition, the company presented its Nilotica shea and Mafura butters. DLG offers high-quality natural base oils from South Africa in sizes ranging from small wholesale to large bulk orders. Following are select examples.
Deep Hydration
Marula Oil (INCI: Sclerocarya Birrea Seed Oil), for one, is a fast-absorbing, antioxidant-rich, nutritious oil, said to offer deep hydration. According to the company, the ingredient is making headlines within the cosmetics and personal care industry. Rich in oleic and palmitic acid, marula oil has been shown to hydrate deeply into the dermis layer of the skin and lock in moisture, so skin stays healthy for a long period of time.
The oil reportedly contains approximately 60% more antioxidants than argan oil. Additionally,  it boasts an impressive shelf life that is eight times greater than olive oil. The ingredient is indicated for use in conditioners, moisturizers, lotions, lip balm and as a facial oil (neat).
Activated Layer
Mongongo Oil (INCI: Schinziophyton Rautanenii Seed Oil) is another novel addition with unique properties. According to the company, packed full of eleostearic acid, a fatty acid with strong anti-cancer properties, mongongo oil dominates the natural protection category. It is said to react with UV light to form a protective layer over skin and hair, creating a natural barrier against damage.
Its moisturizing, regenerating and restructuring properties also reduce redness, itching and scarring to combat symptoms of dermatitis, eczema and other skin ailments. When used as a shampoo or leave-in conditioner, it revitalizes and detangles hair. Mongongo oil reportedly functions as an excellent emollient and applications include lip care, massage oils, lotions, anti-aging creams and sun care products.
Visit the Cosmetics & Toiletries Bench Reference for more information on DLG Naturals and other ingredients.