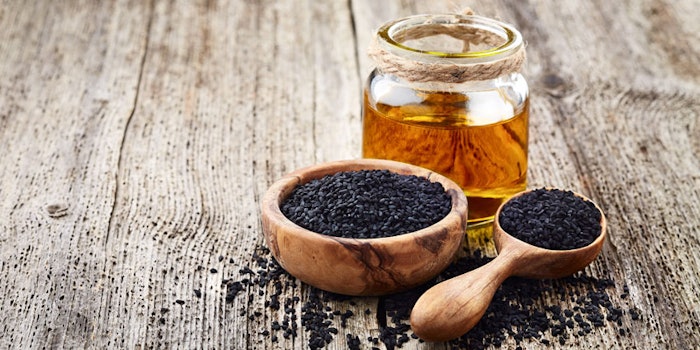 'The rapid growth in the black cumin market is accelerating ... no doubt due to expanding awareness of this ingredient's many nutritional and topical benefits,' explained Botanic Innovations, one supplier of this ancient ingredient.
According to the company, the American Botanical Council ranked it among the top 25 fastest growing herbal ingredients in 2017. Botanic Innovations was reportedly among the first in the U.S. to import and cold press organic black cumin seeds in the early 2000s.
"Sales of our organic black cumin seed oil rose more than 552% between 2009 and 2017, and of our ... [nutritional powder] rose 448% in the same time period," said company founder and chief innovation officer Mark Mueller.
The company notes that black cumin seed was first successfully used in dietary supplements. Quickly, its application in skin and hair care followed. Well-known in the growing halal market, which is now recognized by mainstream consumers, the ingredient is appearing in personal care for skin nourishing, calming and soothing benefits. It also can be formulated into a variety of OTC skin applications to decrease irritation.
In relation, new research suggests black cumin extract could attenuate UV-induced skin cell damage and inflammation. As reported in the FASEB Journal, in vitro tests including black cumin extract and thymoquinone, a major component of black cumin, found these materials to inhibit the translocation of p65, which could reduce or prevent damage and inflammation.
Mueller added, "We have a clinical study and patent showing that a combination of our seed oils helps to support heart health. Customers are also drawn to working with Botanic Innovations because all our seeds are cold-pressed, without additives ... And our team has unparalleled expertise with blends, which helps customers build products with greater functionality."
For more information, visit the Botanic Innovations landing page.