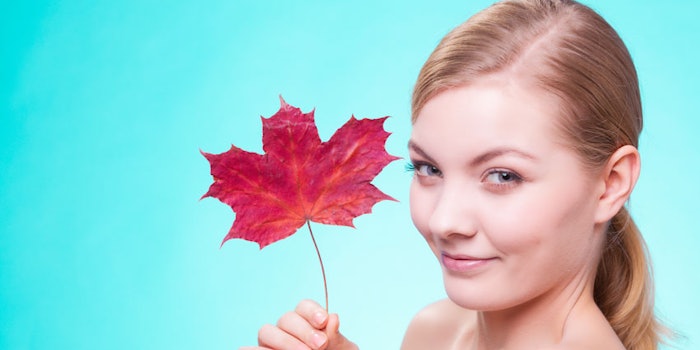 Only heat, pressure and water are used by Renmatix in its supercritical hydrolysis process to release cellulose and lignin materials from sustainable sources; in this case, red maple (Acer rubrum).
While the company's patented Plantrose extraction process can be used with other natural materials, red maple was chosen to produce the new Celltice (INCI: Not Available) active; reportedly the industry's first petro-free, self-emulsifying active. The ingredient debuted at the NYSCC Suppliers' Day, where its capabilities as an active and excipient were highlighted.
Active Skin Benefits
The ingredient is said to foster skin health by providing a high oil-absorptive capacity, to gently control sebum and impart a matte complexion. The ingredient also can address a dry, flaky appearance by accelerating gentle skin turnover and exfoliation.
Furthermore, Celltice protects against environmental stress by functioning as an anti-inflammatory and antioxidant shield. Lastly, it enables indulgent textures via Pickering mechanisms to stabilize the interface between water and oil phases without requiring synthetic emulsifiers. It can even emulsify a variety of oil soluble ingredients, including plant oils, seed butters and active UV filters.
Clean Beauty Movement
The company notes this technology and active align with the clean beauty movement, which has gathered momentum in the past 20 years, prompting cosmetic manufacturers to reduce the use of synthetic chemicals. Today, in response to widespread consumer demand, manufacturers are moving to petro-free, plant-based ingredients for clean cosmetics with minimalist formulations. They also seek sustainable, cruelty-free ingredients that deliver comparable or superior performance to traditional ingredients.
"Historically, scientists have failed to extract cellulose and lignin in the form in which Mother Nature created them, and have resorted to using harsh chemicals that materially [alter] their compositions and dramatically [limit] their functions," said Renmatix CEO Mike Hamilton. "Without the use of any harsh chemicals or solvents, Renmatix is able to release these building blocks of nature to create an entirely new material that delivers multiple functional benefits."
"Celltice is not just a plant-based alternative to chemical emulsifiers and actives," said Hamilton. "This first-in-kind product from our Plantrose process also provides manufacturers with a cost-advantaged, high-performing, multifunctional ingredient..."
For more information, visit the company website.