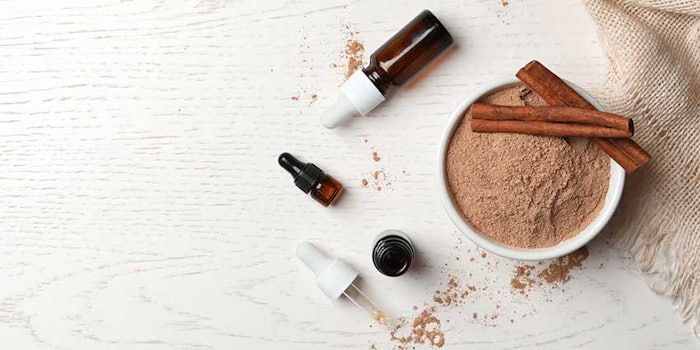 Praan Naturals, a new large-volume wholesale brand from Natural Sourcing, was launched this spring with a commitment to eco-ethical sourcing. The supplier kicked off the new brand with a number of new ingredients that blend fragrance, wellness and cosmetic benefits.
The ingredients include:
Cinnamon Bark Burmannii Total CO2 Extract—This extract contains both volatile and nonvolatile CO2-soluble components of Indonisian Cinnamomum burmannii; as an alternative to Cinnamomum zeylanicum, this ingredient has a reportedly fresher, sweeter aroma, and is more affordable. It is a warming oil, making it especially suitable for massage oil blends. (INCI: Cinnamomum Burmanii Bark Extract)
Frankincense Select CO2 Extract—Comprised of approximately 80% essential oil, this ingredient has a longer shelf life due to its CO2 extraction process, which uses very little heat for more lasting power. It  smells resinous, sweet, rich and slightly deeper than Frankincense essential oils. In skin care and cosmetics, it reportedly supports problematic, wounded and mature skin. (INCI: Boswellia Carteri (Frankincense) Oil)
Hops Total CO2 Extract—With a bitter, herbal aroma, this extract contains the volatile and nonvolatile CO2-soluble components of hops. It contains 38-58% humulones (alpha acids) and 16-30% lupulones (beta acids). When used in low dilutions, the company recommends its use in deodorants and deodorizing formulations. (INCI: Humulus Lupulus (Hops) Extract)
Organic Amaranth Seed Total CO2 Extract—This extract contains a large amount of linoleic acid, along with monosaturated fatty acids, squalene, plant sterols and tocopherols. These components support skin elasticity, minimize the appearance of wrinkles, soothe problem skin and support mature skin. It has an herbal aroma, along with a medium viscosity at room temperature that absorbs well. (INCI: Amaranthus Caudatus (Amaranth) Seed Extract (and) Rosmarinus Officinalis (Rosemary) Leaf Extract)
Eucalyptus Globulus Essential Oil 80% Cineole—This steam-distilled oil has been rectified to contain 80% 1,80 Cineole, and contains a top note of a fresh, crisp medicinal aroma. The company recommends it for use in chest balm and other wellness applications. (INCI: Eucalyptus Globulus Oil)
Vetiver Essential Oil—This thick essential oil has a subtle but sweet and smoky resin-like aroma that blends well with other oils in the citrus, wood and spice families. (INCI: Vetiveria Zizanioides (Vetiver) Root Oil)
Organic Sunflower Lecithin—Available as both a powder and liquid, this organic ingredient can be used as a co-emulsifier in formulations. It is not bleached, and has a sweet, nutty aroma. (INCI: Lecithin (from Helianthus Annuus (Sunflower))
"Praan begins with our breath and becomes evident everywhere, as our life force is what connects us to everything and everyone in our reality, and through our breath, we create our reality. We've been increasing our focus on upstream sustainability and ethical business practices. I strongly believe that it's not enough to be ethical ourselves, but that we are responsible for creating integrity throughout the life cycle of our ingredients. We chose the name Praan Naturals to honor our commitment to eco-ethical sourcing practices - because how you do one thing is how you do everything," commented Anáil Mitra, Chief Executive Officer of Natural Sourcing.