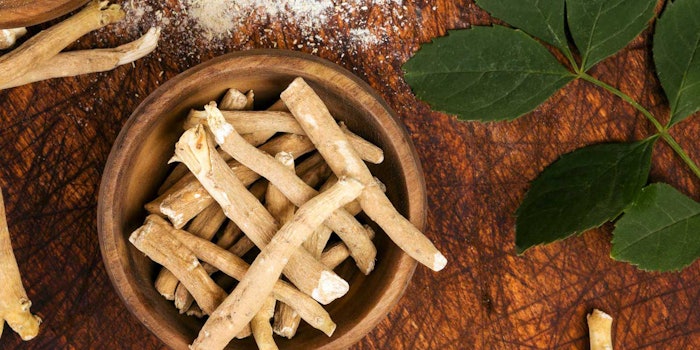 Evonik is bringing an expanded portfolio to in-cosmetics Global 2019, complete with new ingredients for use in of-the-moment applications such as anti-pollution and tools for formulators to develop sustainable products.
The supplier's lineup includes:
NeoPlanta Withania—A multifunctional active that reportedly protects skin against premature aging caused by stress and the environment, based on the Ayurvedic ashwagandha plant. The ingredient is the first of the partnership between Evonik Care Solutions and Evonik Advanced Botanicals.
Tego Pep UP—Meant to protect skin against blue light damage from digital devices, this tetrapeptide reportedly also increases the production of collagen and other fibrous proteins to create a lifting effect.
Dermofeel antioxidants—TocoBalance is a mixture of natural rapekernal oil tocopherols to protect skin while also working to prevent cosmetic formulations from oxidizing. Meanwhile, TocoSkin is based on natural sunflower oil and is rich in alpha-tocopherols in order to protect skin from oxidative stress.
intoBeauty online platform—A digital tool that includes relevant information on Evonik's ingredients and formulation concepts, along with the Sensory Kaleidoscope and Caramide Knowledge Center.
CAREtain Toolbox—An information system that covers sustainability topics such as biodegradable, Cosmos status, vegan and place of origin with the goal of creating transparency and providing formulators with a tool to develop ecologically optimized products.
Sipernat microplastic alternatives—Spipernat 250 PC and Sipernat 9000 PC are made with untreated, Cosmos-certified silicas and have a micro-sponge structure in order to carry liquid ingredients and fragrances. The powdered ingredients also act as a natural alternative to microplastics.
Zeodent specialty silicones—For use in oral care, Spherilex 145 provides moderate abrasion with high cleaning power and Spherilex 148 can be used in formulations meant for sensitive teeth.
On April 2, the supplier present on how natural antioxidants support formulation concepts at 11:10 a.m., along with two formulation lab sessions on natural facial cleansing at 1:30 p.m. and environmentally friendly skin care emulsions at 3:30 p.m. On April 3, the benefits of NeoPlanta Withania will be presented at 1:30 p.m.
Evonik can be visited at booth H30 at in-cosmetics Global, held April 2-4, 2019, in Paris. More on NeoPlanta Withania can be found in the Innovation Zone.