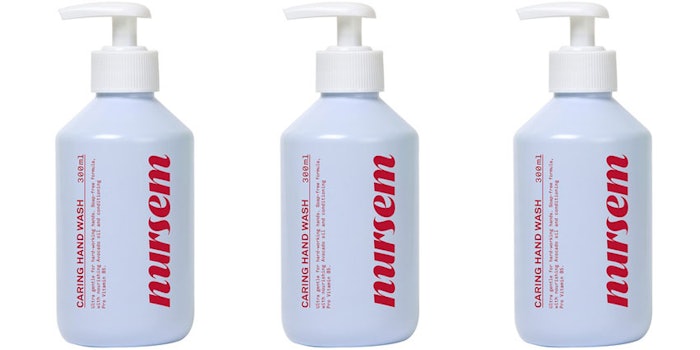 https://www.niche-beauty.com/
This 'Read the Label' focuses on hand care and the product under review is Nursem's Caring Hand Wash. The product is a soap-free hand wash that contains three types of surfactants that are gentle yet effective to keep hands clean and prevent the spread of germs. 

Featured: Formulating on Trend: Hand Cleansers and Surfactant Review
The brand Nursem gained traction during the COVID-19 pandemic as a solution to help repair dry, cracked skin. Co-founder Antonia Philp worked as a pediatric nurse, and understood the effects that constant hand-washing could cause. Because of this, Antonia and her husband, Jonny Philp, teamed up to create a natural solution in the form of a hand care range.
With every product sold, Nursem has promised to give a month's worth of hand care products to a nurse or midwife. It is reported that more than 250,000 nurses, midwives and other health care professionals have received donations.
The brand reports that the three natural surfactants selected (cocamidopropyl betaine, coco-glucoside and lauryl glucoside) lift microbes off the skin, allowing them to be rinsed away and keeping hands clean. Furthermore, protective ingredients such as pro-vitamin B5, glycerin and vegetable oils reduce damage to the skin's lipid bilayer, allowing hands to retain moisture.
The ingredients below in bold are ones that I believe are strongly contributing to the product's performance and claims.
Ingredients: Water (Aqua), Lauryl Glucoside, Cocamidopropyl Betaine, Coco-Glucoside, Betaine, Glycerin, Sodium Chloride, Acrylates/C10-30 Alkyl Acrylate Crosspolymer, Polyglyceryl-4 Caprate, Polyglyceryl-6 Caprylate, Panthenol, Sodium Benzoate, Limonene, Xylitylglucoside, Citrus Paradisi (Grapefruit) Peel Oil, Potassium Sorbate, Anhydroxylitol, Citrus Aurantium Bergamia (Bergamot) Peel Oil, Aloe Barbadensis Leaf Juice, Caramel, Citrus Aurantium Amara (Bitter Orange) Leaf/Twig Oil, Persea Gratissima (Avocado) Oil, Xylitol, Linalool, Sodium Hydroxide, Triticum Vulgare (Wheat) Germ Oil, Tocopheryl Acetate
Editor's note: While the "Read the Label" series provides an overview of the ingredients cosmetic manufacturers use and their related claims, without use levels or access to clinical studies, the author is drawing conclusions based on speculation—albeit from training, formulating experience and, in some instances, evidence in the literature. The following is offered for your consideration and further verification.
Lauryl Glucoside
This nonionic surfactant is used as an alternative to traditional sulfate technology. Lauryl glucoside is mild yet effective at cleaning and is used in this formulation as the primary surfactant.
It has a high flash foam, meaning it foams well upon agitation, and is naturally derived. Due to its mildness, it can be used on mucous membranes and with other surfactants to improve the mildness of the formulation, making it less drying on the skin and less irritating. It is also biodegradable. 
Related: Hand Hygiene and Disease Prevention, Part I
Cocamidopropyl Betaine (CAPB)
Formulating with natural, sulfate-free surfactants can be difficult but adding this raw material can make things easier. CAPB is amphoteric and mild on the skin. It is mostly used as a co-surfactant, as its foam performance is standard but it thickens with electrolytes such as salt. CAPB plays a crucial role in the viscosity of sulfate-free systems. 
Coco-Glucoside
This material is similar to lauryl glucoside as it is naturally derived, nonionic and mild but effective at cleaning. This is used as a co-surfactant in this formula to help with a more rich, dense foam quality and to improve the flash foam speed upon lathering. Coco-glucoside is often used in baby products and sensitive skin products for cleansing. 
Betaine
Betaine is a natural moisturizing ingredient upcycled from food waste from the sugar industry. Betaine is an osmolyte, which means it helps to keep cells hydrated by maintaining water balance, as this ingredient is something our bodies naturally produce. Betaine is a cost-effective, high performing moisturizer and it works in synergy with glycerin to back up strong moisturization claims. 
Glycerin
This ingredient is reported, on Nursem's website, to be a highly effective moisturizer. Looking at the INCI listing, I would hesitate a guess to say the concentration used is below 5%, which is standard for this ingredient. Anything over 10% will make the formula feel sticky but under this concentration, the glycerin will provide long-lasting skin hydration. It is a humectant that attracts moisture from its surroundings and draws it into the skin. 
Sodium Chloride
This ingredient is often overlooked but this is a fantastic formulation aid, as it thickens the CAPB to create viscous, luxurious rheology that allows the product to pump and dispense a rich and pleasant feeling product; not to mention it is a cost-effective way to thicken a formula.
Sodium chloride works by reducing the charge density of a surfactant micelle. This then changes the shape of a micelle from a sphere to a rod, as this is what causes thickening to occur. 
Polyglyceryl-4 Caprate, Polyglyceryl-6 Caprylate
Both of these materials are excellent solubilizers for essential oils in water-based systems. They have high electrolyte tolerance, which means they are the ideal solubilizer choice in a surfactant system that is thickened using salt. These solubilizers will keep the formulation clear in the hand upon dispensing over time. 
Panthenol
Pro-vitamin B5/panthenol is a well-known ingredient to help with "instant soothing" claims and is particularly good for dry, irritated skin. The material is primarily a conditioning agent that can be used in both skin and hair products to smoothe the skin and provide long-lasting moisturization, combined with anti-inflammatory and wound-healing benefits. 
Xylitylglucoside, Anhydroxylitol, Xylitol
Using high levels of alcohol in sanitizers, or washing the hands repeatedly over a short space of time, can be extremely drying to the skin but these powerful humectants help to keep hands moisturized and smooth after use. Xylitol is commonly used in oral care as it is naturally derived from fruits and vegetables; commonly corn, starch or sugar cane. It provides a sweet taste while reducing plaque formation. It is safe for ingestion since the human body actually produces 5-10 g daily.
Citrus Paradisi (Grapefruit) Peel Oil
The brand claims its hand wash to be natural, and their choice to include essential oils as opposed to synthetic fragrances highlights this. Grapefruit peel essential oil provides a fresh, uplifting scent but essential oils can contain high levels of allergens that can cause irritation and redness. In my opinion, this product could perform better with a synthetic fragrance, which lowers the potential for allergens; natural is not always the safest option. 
Persea Gratissima (Avocado) Oil
Nursem reports that vegetable oils can help restore the lipid bilayer of skin and keep it moisturized, and avocado oil will certainly do the job. Avocado oil is a medium to quick drying emollient with a rich, spreadable touch. It seems to be used at quite a low level, looking at the INCI list, but as this is a predominantly water-based formulation, I can understand why from a stability point of view.
Most avocado oil is upcycled from the foods industry from "bad" avocados (or the "ugliest" ones), which would not make it to supermarket shelves. Instead, they are pressed into oil for other purposes, rather than going to waste.
Usage Instructions
To use the product, instructions state to dispense a single pump onto wet hands, massage gently onto skin, then follow the proper hand-washing technique for a minimum of 20-30 sec to effectively clean hands. Hands are then rinsed and dried thoroughly.
This hand wash product can be purchased online for £9.99 for 300 mL ($14 for 300 mL).
Previous "Read the Label:" The Body Shop's CBD Replenishing Moisture Cream
Source: Nursem

Disclaimer: This article was produced in the UK and therefore the INCI listing and INCI names comply with European labeling requirements.