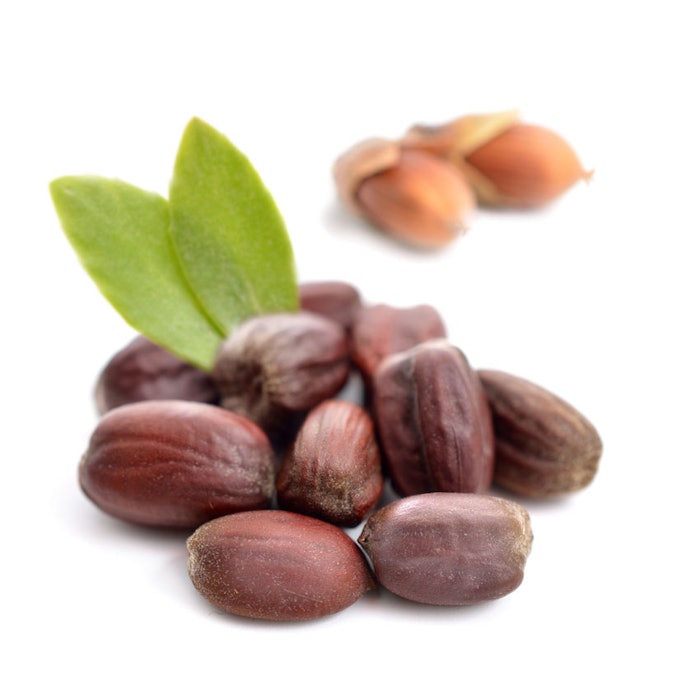 The cosmetics industry is playing a key role in the projected growth of the jojoba oil market, which is set to reach US $254.2 million by 2024, according to a new report by Grand View Research, Inc. Cosmetics was the largest segment of the global market, accounting for 70.6% of the overall revenue in 2015.  
Demand for Organic
Jojoba oil is increasingly penetrating into cosmetic products, including lipsticks, shampoos and conditioners, and skin creams and moisturizers. This, along with the rising demand for organic personal care products and formulation development for specific consumer groups, is expected to promote growth and create new market avenues for cultivators and producers of jojoba oil.
Major cosmetic manufacturers, such as JE International, L'Oréal S.A. and Ole Henriksen, are undertaking extensive research and development for innovation of jojoba oil-based formulations. The oil has properties to mimic the oil produced by human body, acts as an emollient and moisturizer, and prevents skin aging.
Key Insights
Additional findings from the report include:
Cosmetics will witness the fastest volume growth at a CAGR of 5.5% from 2016 to 2024 as a result of rising awareness about organic and natural products and preference toward such products in cosmetics and personal care. Also, increasing consumer awareness regarding grooming is expected to propel market growth further over the forecast period.


North America's jojoba oil market was valued at $58.1 million in 2015 and will show a significant rise owing to increasing penetration of the oil in various organic skin care products. The increasing significance of natural ingredients, including vegetable oils, herbs and fruits in various skin care products, which possess anti-aging properties, is expected to fuel demand. The growing importance of natural ingredients in providing hair fall control, dandruff protection and shine effects are projected to have a positive impact.


Asia-Pacific will witness significant revenue growth at a CAGR of 7.1% from 2016 to 2024 on account of rising demand from Japan and other Southeast Asian countries. The growth of the male grooming industry, particularly in emerging economies of the region, is expected to fuel demand over the forecast period.


Jojoba is used extensively in Japan, owing to consumer inclination toward natural ingredients. The Japanese have always believed in natural organic products, therefore consumer demand for naturally derived organic products has increased over the past few years. Japanese oil massages use jojoba as it resembles the sebum in the human body.