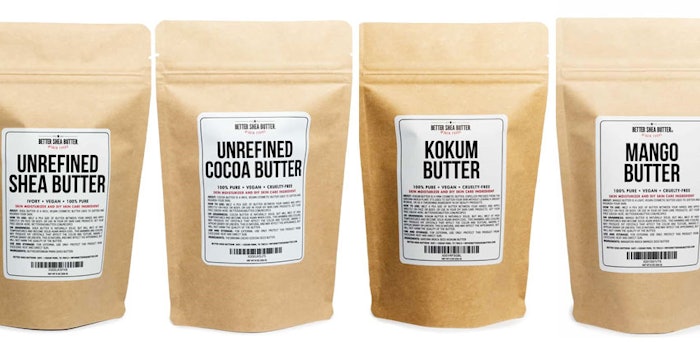 Better Than Shea
Better Shea Butter offers a range of solid butters including unrefined shea and cocoa, and mango and kokum to provide high moisturization for the skin in a solid bar format.
Related: Forestwise Presents Organic RBD Illipe Butter
While all butters provide hydration, each butter also imparts unique benefits such as improving skin elasticity, or reducing stretch marks and scars.
Kokum Butter
Kokum butter is a hard butter that contains nutrients and antioxidants to help nourish and repair damaged, cracked skin. Additionally, it can be used to improve skin elasticity. It is naturally flaky and brittle at room temperature and once it comes into contact with skin, it is said to melt and absorb easily, to leave a soft and moist feeling without a greasy residue. This butter is reportedly popular for its fast absorption and healing abilities.
Kokum butter can be used on its own or as an ingredient and thickener in lotions, soaps and body butters. This butter is vegan and reportedly safe for all skin types. The company notes it also is often used as a substitute for cocoa butter due to its similar texture and the fact that it has little to no scent.
Previously: Read the Label: LUSH's Light Touch Solid Face Oil Serum
Mango Butter
Mango Butter is rich in antioxidants, fatty acids and vitamins that nourish the skin and boost its elasticity and suppleness. In this way, the butter can help to reduce the appearance of fine lines and wrinkles. It is also known to boost skin's natural radiance while reducing the appearance of dark spots.
This butter is a semi-solid vegan butter that reportedly can be used on its own as a moisturizer, or can be used for making body butters, lotions, balms and hair care products. Its gentle quality is said to make it ideal for sensitive skin but also safe for all skin types.
Unrefined Cocoa Butter
Cocoa butter is another solid butter that contains antioxidants, vitamins and fatty acids that penetrate the layers of skin to moisturize, improve elasticity and protect it. Its properties make it effective in smoothing or diminishing scars, wrinkles and similar marks on the skin. It can also help in preventing and minimizing the appearance of stretch marks.
Cocoa butter melts at skin temperature and because of this, it reportedly can be used on its own as a moisturizer but is particularly popular as an ingredient in skin care products such as whipped body butters, balms, creams, lotion bars and more.
Unrefined Shea Butter
Unrefined Shea Butter is a nutrient-rich cosmetic butter packed with vitamins and antioxidants. It is said to deeply moisturize to help soothe and repair dry, itchy, cracked skin and maintain a healthy glow. Its properties also make it effective for evening out skin tone, diminishing blemishes, dark spots, fine lines and wrinkles. Additionally, shea butter can be used on the scalp or in the hair to stimulate growth, tame frizz and lock in moisture.
This semi-soft butter is reported to melt upon contact with skin and can be applied as is or mixed with other ingredients to make skin and hair care products. The shea butter is vegan and said to be safe for all skin types.
Ingredients (Kokum Butter): Garcinia Indica Seed (Kokum) Butter.