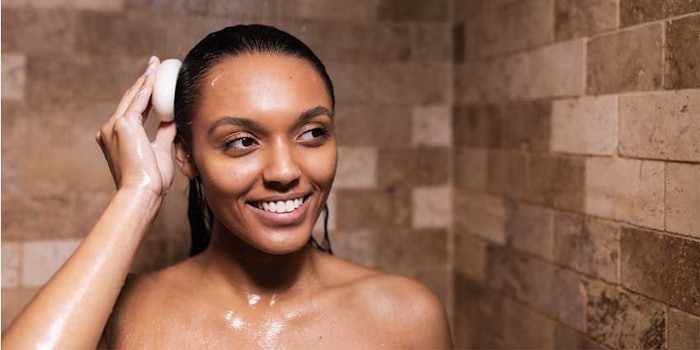 Stephenson
Stephenson has launched its first solid conditioning bar as a part of the company's ongoing commitment to sustainability in the personal care market.
Related: Stephenson's Reveals First COSMOS-approved Personal Care, Base C
The solid conditioner base is the latest addition to Stephenson's Melt and Pour range, designed to bypass the need for plastic containers and reduce the use of water during hair washing. The formulation, which can be tailored using additives, includes natural ingredients such as: behentrimonium chloride, a cationic surfactant to help condition the hair; shea butter and coconut oil, which provide hydration; and hydrogenated ethylhexyl olivate, a natural emollient within the base.
Stephenson's Melt and Pour range has been expanded to include more than 30 products ranging from Crystal Donkey Milk to Crystal Hemp and more. All of Stephenson's crystal melt and pour products are paraben-, preservative- and PEG-free.
"Our melt and pour range of personal care products has been constantly evolving for the past seven years, in line with the increase of eco-demands and changing consumer trends," said Richard Musgrave, marketing manager at Stephenson. "The development of our first-ever conditioning bar as part of this range is in direct response to these trends and presents a solid bar conditioner that is not only great for hair but the environment, too."
For more information, contact Stephenson.