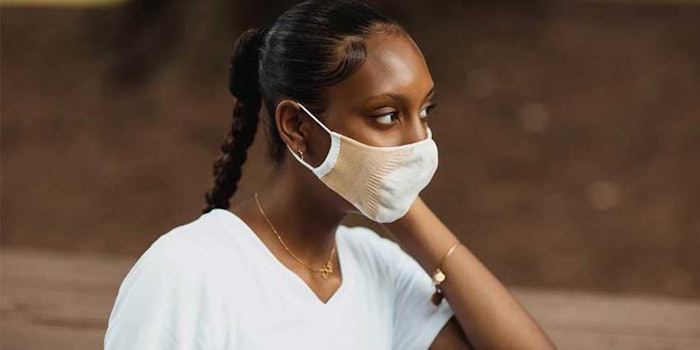 The makers of TheraMask have launched Soliscia by Nufabrx—a reusable face mask infused with shea butter to revive dry skin.
Related: Dr.Jart+ Treats 'Maskne' with MicroTip Focuspot Patches
Nufabrx utilized its patented technology to infuse shea butter and copper into each fiber of the mask. Copper has reportedly been shown to act as a natural deterrent to bacteria, while shea butter can improve the appearance of fine lines and wrinkles. The mask is designed for comfort and breathability while simultaneously delivering moisturizer directly to the skin with each use.
According to the company, Jordan Schindler, founder and CEO, saw the need to expand on mask offerings to provide comfort to Americans as masks became mandated. This called Solscia to action to develop a solution to combat the redness, irritation and "maskne" that consumers are experiencing due to daily wear, in order to revive and rejuvenate dried out skin. 
Soliscia's masks are environmentally friendly and not intended to be thrown away daily like disposable masks. As such, the mask product is durable enough to be machine-washed and dried for reuse.