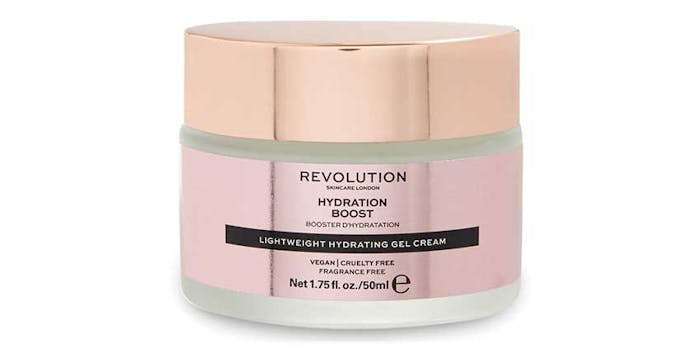 https://www.revolutionbeauty.com/uk/en/skin/moisturise-and-prep/moisturisers/revolution-skincare-lightweight-hydrating-gel-cream---hydration-boost/21037.html
This 'Read the Label' looks at Revolution Skincare's Hydration Boost moisturizer, which is claimed to provide lightweight but long-lasting hydration to fight visible effects of dehydration, including fine lines.
Related: Formulating on Trend: Waterless Cosmetics
In 2014, Revolution began as an inclusive makeup brand, known then as Makeup Revolution. The brand works in a unique way by adopting a "fast beauty" approach, meaning that new, affordable products are launched weekly—staying ahead of the latest cosmetic trends (that are constantly changing).
Revolution Beauty has high online engagement and takes pride in listening to consumer feedback, which they use to steer new product development to create products that embrace imperfection, respect self-expression and support beauty in its many shapes and sizes.
The company has expanded rapidly in recent years and now has five sub-brands:
Revolution (formally Makeup Revolution): The brand that started the journey; a color cosmetic brand made up of foundations, eyeshadows, etc.
Revolution PRO: Professional quality products with additional skin care benefits in quality packaging.
I Heart Revolution: A fun brand that explores color and creativity, and unique products in quirky packaging.
Revolution Skincare: High quality, targeted skin care solutions.
Makeup Obsession: Mostly eyeshadow pallets that are fun, affordable and colorful.
Revolution Skincare claims that the Hydration Boost moisturizer is a lightweight, gel-cream product provides hydrating and moisturizing benefits to the skin. It is said to absorb quickly for rapid hydration, while leaving a cooling sensation to awaken tired skin. It is suitable for all skin types.
This moisturizer is formulated with hyaluronic acid to help the skin retain moisture throughout the day for lasting hydration and to reduce the visible appearance of skin dehydration. The product is also oil-free, to keep the hydration effects light. To use it, a small amount of product should be massaged into the skin morning and/or evening after applying water-based serums but before oil-based serums.
This product has a fairly short ingredients list—small INCI lists are another trend linked to "clean" beauty. The materials bolded below are ones I believe are contributing to the product's overall performance and claims:
Ingredients: Water (Aqua), Caprylic/Capric Triglyceride, Shorea Stenoptera (Borneo Tallow Nut) Seed Butter, Phenoxyethanol, Sodium Acrylates Copolymer, Lecithin, Tocopherol, Chlorphenesin, Sodium Hyaluronate, Citric Acid.
Editor's note: While the "Read the Label" series provides an overview of the ingredients cosmetic manufacturers use and their related claims, without use levels or access to clinical studies, the author is drawing conclusions based on speculation—albeit from training, formulating experience and, in some instances, evidence in the literature. The following is offered for your consideration and further verification.
Caprylic/Capric Triglyceride
This is also known as CCTG or medium-chain triglyceride (MCT). Although it is oil-soluble, it is technically an ester of caprylic and capric fatty acids and glycerin, allowing the brand to claim "oil-free." CCTG is a cost-effective emollient for skin care, providing moisturization and leaving a light skin feel after use.
Shorea Stenoptera (Borneo Tallow Nut) Seed Butter
This pale, off-white butter is derived from Borneo native illipe tree (Shorea stenoptera) nuts. Illipe butter is important to the Borneo rainforest as it is encouraging reforestation. The nuts of this tree fall to the ground, and this natural process is the best way to obtain the highest yield of butter from the nuts.
Illipe butter is adding value back to the rainforest, which is being destroyed quickly for unsustainable palm oil. It has a melting point between 30-38°C, so it melts on the skin to leave a matte, moisturized skin feel.
Phenoxyethanol
This is a clear, colorless liquid that is used as the main preservative in this product. Phenoxyethanol is usually added to the formula after emulsification and then cooled below 40°C for optimum efficacy. Phenoxyethanol is a broad-spectrum preservative, meaning it targets most pathogens. It is restricted to a maximum use of 1% in Europe.
Sodium Acrylates Copolymer
A synthetic acrylate thickener, this ingredient provides the product with a thick, bouncy gel texture that feels cool upon application. It also helps with emulsion stability. When using this material, it can be added to the formula and will thicken instantly without the need to neutralize.
Lecithin
This powerful emulsifier can be used to make different structures such as liposomes and nanoemulsions. It can be obtained from egg yolks but more commonly, it is derived from soybeans or sunflowers. Lecithin will work in synergy with the sodium acrylates copolymer to create the gel/cream texture of this moisturizer.
Tocopherol
Also known as vitamin E, this is a powerful antioxidant that combats free radicals and pollutants, which also helps to prevent the formula from turning rancid over time.
Chlorphenesin
This secondary preservative is used to boost preservation efficacy against fungi and yeast. Its maximum use permitted in Europe is 0.3%.
Sodium Hyaluronate
This old faithful anti-aging and moisturizing ingredient provides a plump, soft skin feel after use. I would hesitate a guess that this is a high molecular weight grade but you wouldn't know for sure with this general INCI name.
Higher molecular weight grades are known for their enhanced sensory performance and for "instant" hydration claims, as they can take up to 1,000 × their weight in water in 5-12 hr. The lower molecular weight grades tend to be more expensive and penetrate deeper into the stratum corneum for longer-lasting anti-aging results, linked with increased collagen production.
This moisturizer is available at various pharmacies, retailers and on the Revolution Beauty website at £8 for 50 mL ($10 for 1.75 fl. oz.).
Source: Revolution Skincare

Disclaimer: This article was produced in the UK and therefore the INCI listing and INCI names comply with European labeling requirements.