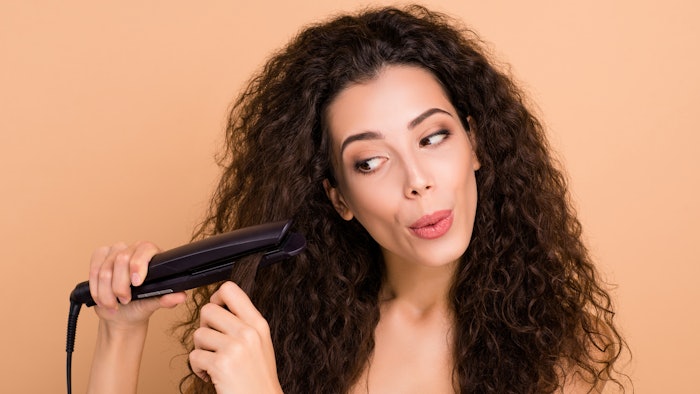 Solvay has introduced Polycare Heat Therapy (INCI: Not Provided), an active ingredient that protects hair from thermal damage due to repeated use of hair styling appliances operating at very high temperatures. Solvay will present Polycare Heat Therapy during in-cos Global in Barcelona from March 28-30 at booth V10. 
The ingredient is a non-ecotoxic, double-derivatized cationic guar and focuses on the trend of bio-based and silicone-free solutions in hair care and delivers thermal protection in transparent formulations. 
Related: In-cosmetics Global 2023: Sustainability, Events, Industry Experts
In hair care formulations, Polycare Heat Therapy forms an invisible barrier on the hair surface. As a multi-functional ingredient, it adds straightening effects and softness while improving detangling and wet combability without build-up in multiple applications, per Solvay. Comprehensive testing at Solvay has demonstrated that it can reduce thermally induced hair damage by up to 30%. 
Stephanie Neplaz, global innovation marketing director, hair care, commented: "Our new Polycare Heat Therapy addresses the challenge of protecting hair against thermal damage caused by high-heat devices such as flat or curling irons and hair dryers."