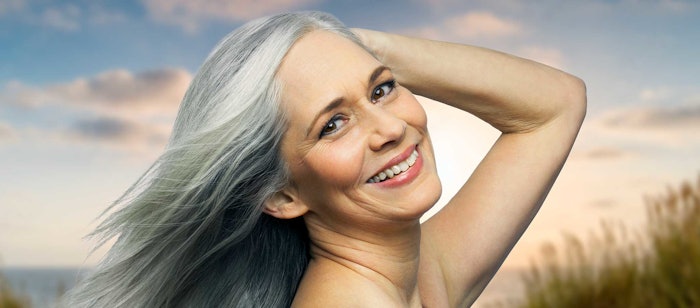 Image source: BASF's Care Creations
BASF's Care Creations has introduced two biotic ingredients that support healthful and graceful skin aging: Probiolift (INCI: Maltodextrin (and) Lactobacillus) and Postbiolift (INCI: Maltodextrin (and) Lactobacillus Ferment). According to BASF, unlike other biotics, these ingredients are the first to use a bacterium that is found naturally in the skin: Lactobacillus crispatus.
Related: Dakota Biotech Launches Live Probiotic Collection to Restore Skin Microbiome
To develop the ingredients, BASF studied the facial microbiomes of young and mature individuals and found that lactic acid bacteria including Lactobacilli were noticeably decreased in mature skin. Levels of the Gram-positive, rod-shaped anaerobic L. crispatus specie, in particular, were diminished in the under-eye zone and undetected in the wrinkle hollows of older volunteers.
These findings led researchers to assume that L. crispatus isolated from human skin could be a key to more youthful-looking skin. From this, the company developed the ingredients via the same biofermentation process. Probiolift is a probiotic with dormant cells of living L. crispatus while Postbiolift is the fermentation supernatant containing the metabolites secreted by L. crispatus. 
Probiolift 
Probiolift is said to awaken upon contact with skin's moisture. The active promotes graceful skin aging by making the skin appear fuller and improving the appearance of forehead wrinkles. These effects were demonstrated in a clinical study of 29 female volunteers between the ages of 45-65 who had fine lines or wrinkles on their foreheads.
In comparison with a placebo formulation, the Probiolift 0.05% test formula reportedly gave the skin a fuller appearance after two months of use. According to BASF, while the appearance of forehead wrinkles is more difficult to smooth than crow's feet, the probiotic offered a visible correction in this area, achieving a 5% reduction in the appearance of wrinkles compared with the placebo. These clinical results were supported by the L. crispatus biological properties identified in earlier in vitro testing. 
Postbiolift 
Postbiolift aims to support an improvement in the mechanical properties of skin to make it appear more elastic, less wrinkled and smoother in the eye area, and evenly complected.
The efficacy of Postbiolift was demonstrated in a placebo-controlled clinical study of 30 female volunteers aged between 40-50 with crow's feet wrinkles and color spots on the face. After 28 and 56 days of treatment with the ingredient at 1% in a test cream, volunteers' skin elasticity parameters were evaluated. Results indicated a significant improvement of up to 10% over the placebo.
In addition, at the end of the 56-day study, Postbiolift had decreased the appearance of crow's feet and pigmented age spots in the middle-aged women by almost 7% compared with the placebo. The mechanism underlying the observed clinical results was previously evidenced by comprehensive in vitro studies.
Recently: BASF Offers Range of LowPCF Intermediates for Reduced Carbon
"Consumers are increasingly aware of the health benefits that biotic ingredients offer, whether pre-, pro- or postbiotics. This trend has its roots in the food industry," said Cécile Kalem, BASF launch manager for active ingredients in Europe. "What is common practice in this field has, up to now, been one of the most challenging tasks for the personal care industry: incorporating living skin bacteria into cosmetic formulations and keeping them active. With Probiolift, we have found a solution for this challenge—a real breakthrough by our research and development teams."