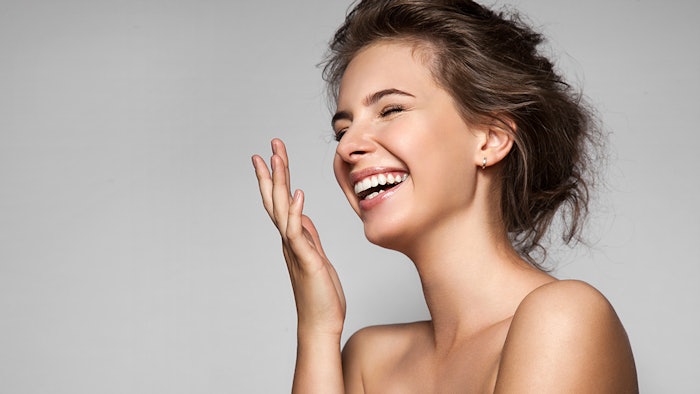 Image source: Roelmi HPC
Roelmi HPC's biotech ingredient, Ener-GY plus (INCI: Not Provided) prevents signs of skin fatigue by improving skin elasticity, firmness and radiance.
Previously: Roelmi HPC Debuts Probiotic-derived, Skin-balancing EquiBiotics LRh
Ener-GY plus is a cell energizer active ingredient comprising upcycled biologically active solvents rich in fruit oligo-elements. The technology is designed to optimize mitochondrial activation.
Due to the Ener-GY plus' specific efficacy in supporting mitochondrial biochemical pathways, the active provides positive conditions for metabolism and trophic cell processes. The active promotes ATP production in mitochondria by positively modulating the cell-energizing activity. As a result, it decreases cellular senescence by promoting a high cellular vitality and responsiveness.
Ener-GY plus addresses what the company calls, "smiling skin," which forms from the facial muscles contracting over time due to repeated motions (smiling, talking and eating) that can cause skin elasticity to decrease. Because of this, expression lines appear on the forehead, nose, and around the eye and mouth areas.
Cellular energy plays a role in skin well-being, and is related to a healthy and young complexion. When skin cells lose their vigor, a loss of vitality can occur and lead to a dull and tired complexion.
According to the company, clinical studies have shown Ener-GY plus to prevent signs of skin fatigue by improving skin elasticity, firmness and radiance. Further evaluations confirmed that the ingredient helps in maintaining the physiological balance in skin microbiota composition.