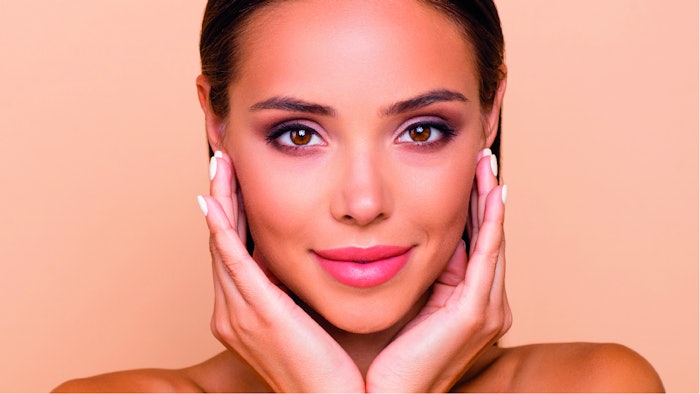 Image source: Exsymol
Exsymol offers Adenosilane (INCI: Not Provided) as an anti-aging solution to tighten pores from the inside. Adenosilane revitalizes the pore sheath to retain its grip and prevent loosening.
Previously: Exsymol Updates Silanols with More Natural ISO Versions
Adenosilane is a silanol made from Exsymol biotechnology, utilizing biofunctional silicium and adenosine. Adenosilane was awarded at IFSCC Cancun scientific congress in the top 10 poster innovation and will be showcased at in-cosmetics Global 2022. 
Scientific in vitro results showed: 
optimization of fibrillogenesis (

sheath reconstruction 

(collagen, MMP1));

optimization of the fiber network around the pore (

sheath's quality

 (

MAGP1

: microfibril associated glycoprotein 1));

r

ise of the available energy level (

sheath property 

(ATP)); and 

recovery of the pore elasticity (

resilience

 (BioMeca)).
From the age of 25, skin is characterized by the appearance of dilated pores, fine lines, loss of firmness and rougher skin. In clinical studies, the active exemplified:
pore dilation prevention with 75% of volunteers who perceived less visible pores and 70% of volunteers noticed a refined texture;
the reduced appearance of fine lines with a 9.5% wrinkles depth reduction for 75% of volunteers;
a 7.75% increase of firmness; and
a rougher skin reduction with an 8% increase of smoothness versus the placebo.
Additionally, the ingredient encouraged baby smooth skin as it recreates the cellular environment for a youthful dermis. The active allows the skin to keep or regain its youth by acting on the appearance of the skin such as pores, texture and wrinkles.