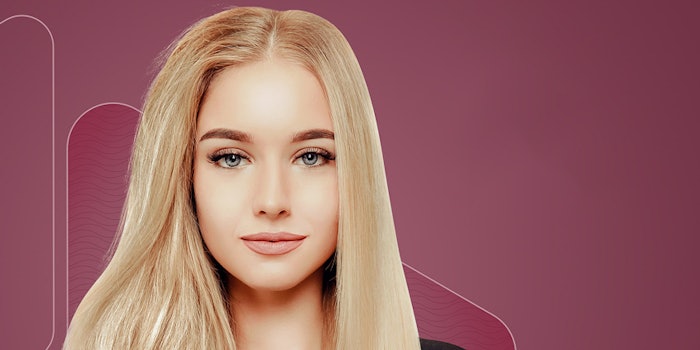 Chemyunion
Chemyunion presented its latest innovations at the California Society of Cosmetic Chemists' (CASCC) Suppliers' Day, including solutions for frizz, signs of aging and acne, along with a hair color enhancer. 
Related: [final update] 4 Sustainable & Ethical Beauty Innovation Opportunities
Specific products unveiled were: Allinea, Cellfie, Miracne and ProShine.
Allinea
Allinea (INCI: Water (Aqua) (and) Lactic Acid (and) Ethyl Linoleate (and) Ethyl Oleate (and) Trehalose (and) Polyglyceryl-10 Laurate (and) Glycolic Acid (and) Magnesium Aluminum Silicate (and) Cocos Nucifera (Coconut) Oil (and) Sodium Lignosulfonate (and) Behentrimonium Chloride) was developed for the temporary realignment of hair fibers, providing a reduction in hair volume and frizz.
According to the company, the active contains a synergistic association of alpha-hydroxy acids, ethyl esters, disaccharide, smectite clay, coconut triglycerides and a re-used lignin biopolymer from a renewable plant source. During hair blowout treatments and flat iron processes, Allinea offers a temporary change in the conformation of the keratin structure from α-helix to beta-sheet type, favoring the disruption of weaker chemical interactions such as hydrogen bonds, ionic and hydrophobic bonds without breaking disulfide bonds.
In addition, the composition protects hair from heat damage, seals the cuticles and leaves the hair protected against moisture, prolonging its effects even in high humidity environments—what the company has coined "the umbrella effect"—for up to 24 hr. In clinical studies, the active was found to reduce volume up to 58.6% when compared with untreated hair. Also, it reduced frizz up to 30×, compared with the placebo.
Cellfie
Cellfie (ICNI: Water (Aqua) (and) Propanediol (and) Lecithin (and) Glycerin (and) Thymus Vulgaris (Thyme) Flower/Leaf Extract) is a system to deliver Thymus vulgaris (thyme) extract to act upon adipocytes non-invasively for skin and wrinkle lipo-filling stimulation, promoting natural-looking skin rejuvenation. The ingredient aims to improve structural aging in skin caused by lipoatrophy or loss of adipose tissue.
The active works by inducing adipogenesis through the expression of adiponectin. In vitro and in vivo studies validated the ingredient's effects, including:
In 60 days, the area, length and depth of the perioral wrinkles were reduced by up to 28%, 30% and 9% respectively;
In 60 days the area, length and depth of periorbital wrinkles (crow's feet) were reduced up to 27%, 29% and 9.5% respectively;
In 60 days the area, length and depth of the smile lines were reduced up to 60%, 47% and 29% respectively;
In 60 days, the area, length and depth of the nasolabial lines were reduced up to 23%, 25% and 8% respectively; and
Reducing and modifying the facial contour through stimulation of skin filling, supporting claims for its efficacy as an alternative to invasive fillers.
The company notes the product consists of a liposome delivery system, and it is important to consider that the use of surfactants in high concentrations can disrupt the delivery system, thus reducing/impacting the product's efficacy. Therefore, the company recommends avoiding its use in formulations with ethanol or with high concentrations of surfactants.
Miracne 
Miracne (INCI: Propanediol (and) Xylitol (and) Caprylic Acid) is a three-in-one active to treat acne in both teenagers and adults.
Miracne works by reducing the levels of acne-causing bacteria (Cutibacterium acnes) as well as redness associated with acne lesions, and by controlling sebum production.
ProShine 
ProShine (INCI: Castor Oil Propanediol Esters) is a vegan, biodegradable active designed via green chemistry. It delivers intense shine and color enhancement in dyed, bleached and natural hair.
The product is said to interact with the main keratin structures of the hair fiber by forming a uniform molecular film with a high refractive index, which is necessary for obtaining an intense shine.
Previously: Chemyunion Announces Leadership Promotions