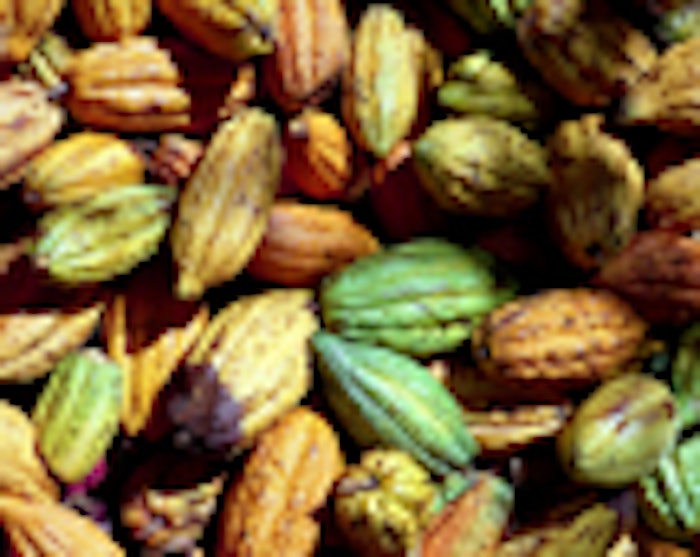 Mibelle Biochemistry has sourced cocoa beans for their relaxation effects. According to the company, cocoa beans contain several "feel-good" chemicals including anandamide, a lipophilic substance also naturally produced in the brain. With this information, it launched NanoCacao, a lipophilic fraction of cocoa beans encapsulated in a nano-emulsion.
The liposoluble fraction of cocoa bean contains anandamide, which is also naturally produced in our brain. Anandamide is a neurotransmitter that activates the same target as marijuana and thus stimulates mood. This neurotransmitter induces euphoria, regulates appetite and relaxes muscles. Anandamide binds to the cannabinoid receptors that are also present on certain skin cells.
The company reported the nano-emulsion to improve the smoothness of the skin's micro-relief in vivo. Therefore, it can relax and smooth the skin leading to an improvement of the complexion. The product is available as NanoCacao (INCI: Theobroma cacao extract/Theobroma cacao (cocoa) extract (and) glycerin (and) lecithin (and) tocopherol (and) caprylic/capric triglyceride (and) phenoxyethanol (and) water (aqua)), a  water-soluble cocoa bean lipophilic fraction encapsulated in a nano-emulsion, and NanoCacao O (INCI: Theobroma cacao extract /Theobroma cacao (cocoa) extract (and) tocopherol (and) caprylic /capric triglyceride), an oil-soluble cocoa bean lipophilic fraction.
Preparation of the two versions of cacao are prepared from the "Criollo" variety of cacao beans. This type, found in South America, is used only for high quality chocolate because of its extremely rich aroma and flavor. Cocoa fruit is opened and the beans start to ferment naturally, thus developing first aroma. After drying and cleaning, the fermented cocoa beans are roasted until they start to crack and develop their full aroma. Then the husk is removed and the cocoa beans are crushed into nibs. Cocoa nibs are then extracted in an inert oil to obtain NanoCacao O. The oil is then encapsulated in a nano-emulsion to obtain NanoCacao.
Chocolate history dates back to the ancient Mayan people of Central America. They made a thick rich liquid by roasting and grinding cocoa beans and mixing them in water with maize meal, vanilla and chili. Since the 19th century, Switzerland has become one of the world's leading chocolate manufacturers due to its breakthrough technique of chocolate processing and due to the stringent selection of raw materials.
Many people are addicted to chocolate more than to any other food. As a reputed aphrodisiac, chocolate has also been credited with various other feel-good properties and is often regarded as a "comforter" and an anti-depressive. Several studies have been performed on the craving for chocolate and results showed that different factors were involved in this phenomenon, especially the feel-good chemicals of the cocoa beans, hormonal influences and chocolate's sensory qualities.
Chocolate is made of cocoa beans, the seeds of the tree Theobroma cacao meaning "food of the gods". Consisting of almost 50% of cocoa butter rich in unsaturated fatty acids, cocoa beans also contain different compounds having "feel-good" effects. The hydrosoluble ones are stimulant alcaloides including theobromine and phenylethylamine.
The smoothing effect of NanoCacao was evaluated in a study with 20 volunteers ages 36 to 61. An emulsion containing 3% of NanoCacao was applied twice daily for 28 days to their crow's feet. The cutaneous micro-relief was analyzed by means of phaseshifting rapid in vivo measurement of skin (PRIMOS). Results showed a smoothing effect of the skin's micro-relief in 95% of the subjects. In a second placebo-controlled study, an emulsion containing 3% NanoCacao was applied once daily for 28 days to the crow's feet area. As a control, the placebo cream was applied on the other side of the face. After 28 days, the number of micro furrows was reduced by 8% compared to the placebo treatment.
In an in-vitro study, the effect of NanoCacao on the contraction of innervated muscles was analyzed. Human muscle fibers were cultivated with spinal cord nerve cells in a co-culture until the muscle developed many mature neuromuscular junctions and started to contract. Cultures were observed with an inverted microscope with video camera. Then, the test products (NanoCacao and carisoprodol as a myo-relaxant reference) were added. Muscle contractions were counted for 30 sec just before the product application and also 1 min, 2 hours and 24 hours afterwards. Also, cell viability was evaluated in parallel by the MTT assay. Then, the test products were removed from the culture, and 24 hours later, contractions were counted again for 30 sec. Results showed that NanoCacao slowed down the frequency of muscle fiber contraction after 24 hours of incubation. The complete reversibility of this effect was demonstrated.
The company finds the products to de-stress and relax the skin in addition to reducing skin tension and smoothing micro-relief. They are recommended for anti-stress formulations, color cosmetics and wellness products.