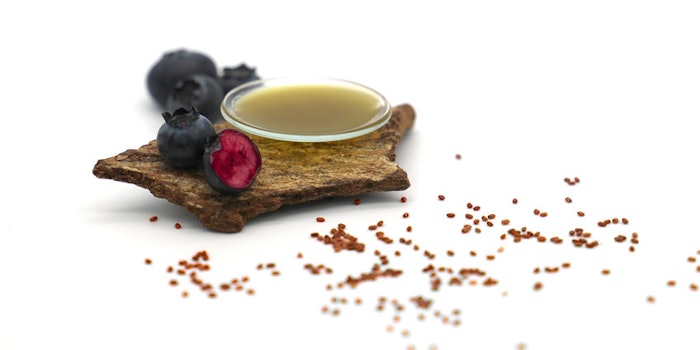 Givaudan Active Beauty
Givaudan Active Beauty has unveiled Omegablue (INCI: Vaccinium Myrtillus Seed Oil), a cosmetic ingredient created from upcycled bilberries for advanced skin repair.
Related: Scientists Discover Origins of Eczema and Psoriasis
The bilberry seeds were upcycled to craft a natural ingredient to revert skin dryness, irritation and desquamation caused by lipid barrier damage. According to the company, consumers are pushing for upcycled beauty products and looking for eco-friendly solutions that do not compromise on skin protection. Omegablue is said to meet these needs.
Bilberries are a source of anthocyanidins that are extracted from the pulp and fruit skin for the supplement and pharma industries. The remaining tiny seeds of the berries are upcycled for beauty, as they contain up to 20% of linoleic acid (omega-6) and α-linolenic acid (omega-3) in an optimal ratio to improve hydration and skin barrier functionality.
According to the company, the clinical efficacy of Omegablue has been shown in surfactant-induced depletion tests. After three days of application on damaged skin, treated areas show restored barrier function. The ingredient also showed high efficacy on chronic inflammation (psoriasis), as it decreased erythema severity by as much as 27%, and scale formation by up to 28% in four weeks.
In eczema-afflicted skin, the active showed even better results, compared with psoriatic skin. Here, erythema severity decreased by 37.5%, and the itch rating by 42.8%. Additionally, the Psoriasis Area and Severity Index (PASI) and Eczema Area Severity Index (EASI) improved by 27% and 35%, respectively.
Previously: Midwest SCC: Upcycling in Personal Care and Red Maple Emulsifier
The active was leveraged for its reported light and silky touch in the company's S.O. Smooth shower oil prototype formula. According to the company, this formula cleans the skin and protects against external assaults. Enriched with chia oil, a natural ingredient that gently nourishes, this oil is said to restore and maintain the skin barrier.
"Crafted by a CO2 procedure in an upcycled process from the seeds of this Vaccinum myrtillus berry, Omegablue was developed as a topical soothing agent for sensitive and damaged skin," said Giada Maramaldi, personal care category manager of Givaudan. "It effectively calms skin discomfort in a transient or curative way and contains sebum-like essential fatty acids, forming a protective barrier from external agents."
For more information, contact Givaudan Active Beauty.