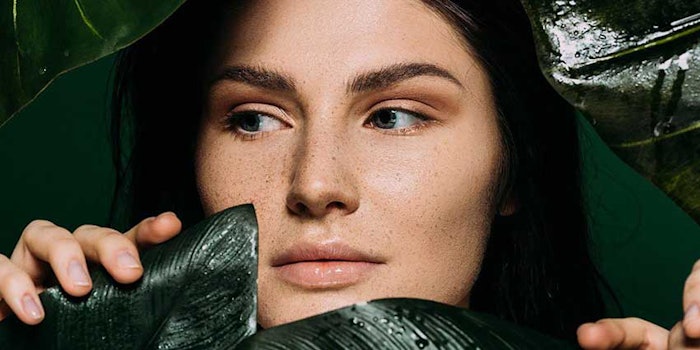 Seppic has released updated data and results for its various ingredients, including Emogreen L19 (INCI: C15-19 Alkane (Plant-based & Renewable)), Montanov 202 (INCI: Arachidyl Alcohol (and) Behenyl Alcohol (and) Arachidyl Glucoside) and TECA (INCI: Asiaticoside (and) Madecassic Acid (and) Asiatic Acid).
Seppic, in cooperation with WeSource, has also unveiled an ingredient to improve moisture in the skin, Hydrachrysum (INCI: Water (Aqua) (and) Glycerin (and) Helichrysum Stoechas Callus Culture Lysate).
In addition, leveraging consumer insights, Seppic released three beauty concepts called Beauty Trilogy.
Related: Polymers with a Big Heart: Seppic Gives Back
Emogreen L19
Seppic has released new studies about Emogreen L19, a biodegradable, 100% plant-based and non-polar emollient that is known for its sensory properties that are similar to volatile silicone oils. Emogreen L19 addresses very dry and sensitive skin needs by improving the appearance, renewing the sensation of comfort and allowing formulators to create cosmetic products with fewer preservatives.
In a clinical study, Emogreen L19 was shown to be a microbiota-friendly emollient. Tested at 10% in an o/w emulsion used for 28 days in comparison to the same formula containing a classical oil (Caprylic/Capric Triglyceride), the ingredient was able to improve the balance of dry skin microbiota, increasing the quality of the hydrolipidic film.
Emogreen L19 acts as on the skin's "invisible barrier" was assessed via the amplification of the part of the RNA representative of the skin microbiota and 16S RNA sequencing.
Recently: Epidermal Evolution: Rhythm, Stress and Touch Response
Another result noted in the study was that the ingredient proved to be ideal to improve dry skin damaged in combination with commonly used soothing active ingredients.
In a formulation dedicated to dry and sensitive skin containing bisabolol, Emogreen L19 showed synergy with the active ingredient to restructure the skin after 28 days of treatment. In comparison, caprylic/capric triglyceride did not show significant results.
In an o/w emulsion containing 10% of Emogreen L19, the ingredient significantly improved the appearance of the skin by appearing more moisturized, softer and smoother.
The clinical results were reportedly felt and visually perceived by the volunteers who participated in the study. The results showed that the formula that contained the ingredient was highly reviewed, with 91% of the volunteers feeling a decrease in cutaneous discomfort sensation after one month of treatment.
In addition, Seppic tested the capacity of the emollient to lower the number of preservatives required to reach preservation criteria A, according to the European Pharmacopoeia, in a cream-gel formula.
The in vitro study showed that, because of its specific non-polar structure, Emogreen L19 is ideal for gentle products dedicated to sensitive skin by lowering the amount of preservative needed.
Montanov 202
Montanov 202 is a 100% plant-based, COSMOS- and Natrue-approved o/w emulsifier for skin care formulations. A 2020 Seppic study demonstrated that liquid crystals are the reason behind both its performance in formulations and its cutaneous activity.
Seppic conducted studies to understand the mechanism of action behind those skin benefits and to demonstrate that these structures are robust.
Previously: Comparatively Speaking: Hydrotrope vs. Emulsifier
First, Montanov 202 emulsion richness in liquid crystals was investigated to understand the impact of time, temperature, transport and formulation composition on the creation and the stability of lamellar phases and lamellar bilayers.
Extensive stability studies mimicking extreme conditions such as hot temperature and transportation demonstrated that the ingredient can create liquid crystals that are powerful, thus guaranteeing stability and performance over time.
Second, a focus was made on skin improvement. Similarities were found between the emulsion and the stratum corneum lipid organization. X-rays' microdiffraction proved that the lamellar bilayer biomimetic structure in the emulsion strengthens the skin barrier function by gently inserting itself within the stratum corneum lipid lamellar structure.
As a result, skin roughness is reduced and skin moisturization is increased for up to five hours after application; in vivo results were demonstrated by visualization imaging technology and corneometry measurement.
Hydrachrysum
WeSource introduced Hydrachrysum, a natural moisturizer offering a solution to improve dry skin and inflammation. Bio-inspired by Helichrysum stoechas, the ingredient has been developed using WeSource's Celtosome biotechnology.
The technology offers a molecular richness comprising hydrophilic and lipophilic molecules derived from the dedifferentiated plant cells and specific cells secreted in the medium.
Related: Lumin Touchless Face Mist Touts Hydration, Anti-aging Claims
Hydrachrysum induces a decrease of pro-inflammatory and an increase of pro-resolutive mediators to allow a return to homeostasis and improved barrier function. The ingredient reportedly increases the number of lacunae, which act as extracellular water tanks and represent as much as 40% of the volume of the stratum corneum.
It boosts skin moisturization after only five days by increasing the number of lacunae by 82% versus a placebo.
Hydrachrysum is COSMOS- and Natrue-approved, halal-certified and scientifically proven with in vitro, ex vivo and in vivo data at 1%.
Seppic has also offered new results on damaged skin repair by TECA, a WeSource active ingredient purified in triterpene molecules. TECA reportedly accelerates the repair process on damaged skin and acts on the restoration of its integrity.
TECA's medicinal grade is used for its repairing properties. Seppic also offers a cosmetic grade of TECA with restorative properties.
An in vivo study showed that skin is able to repair faster after a laser procedure when using TECA—inflammation in the epidermis diminishes 10 days earlier with TECA compared to placebo.
At D4 versus D0, reparation of the dermis density is 60% stronger with TECA, according to Seppic. At D14 versus D0, dermis density recovers and comes back to normal with TECA, which is not the case with placebo.
Beauty Trilogy: Wellness, Conscious and Augmented Beauty
Seppic interviewed women on their lifestyle and how it can affect their perception of cosmetics. Using their answers, Seppic created the Beauty Trilogy, a trio of concepts comprising six cosmetic formulas that meet the needs and expectations of each of these types of consumers.
Some of these formulations were sent to Global Cosmetic Industry and Cosmetics & Toiletries for review.
Also related: From Vice to Lifestyle: CBD, Cannabis, Hemp and Beauty
The healthy living lifestyle is for consumers who are concerned about the impact and effects of the products they buy on themselves and their family. This includes food, cosmetics or household products. Seppic took this idea and developed its Wellness Beauty concept, which is part of "clean" cosmetics and holistic beauty trends.
The Happy Skin formula (pictured) tapped into feel-good emotions and pro-/well-aging trends. The uniwue treatment foam stimulated the senses, from its interesting texture to its perfume. The formulation included nutritious gums containing Ceramosides (INCI: Glycosphingolipids (and) Glycolipids), an anti-aging active ingredient from Seppic.
The "better living" lifestyle is for consumers concerned about the preservation of the environment and the future of the planet. The first thing this specific consumer notices before buying is the ethical and environmental impact of the products they consume. This consumer is looking for a simpler, ethical lifestyle called, Conscious Beauty.
The Conscious Beauty concept included biodegradable formulas using sustainably sourced ingredients. The Waste Less Lotion, was a 99% biodegradable, multi-purpose moisturizing lotion developed according to the COSMOS Natural standard.
It contained Hydralixir LD (INCI: Water (Aqua) (and) Laminaria Digitata Extract) and Sepifine BB (INCI: Amylopectin), ingredients derived from by-products of industrial manufacturing processes.
Highlighted: Soft-focus for the Selfie-obsessed: Eye Tracking to Improve Color Formula Development
For the consumer who is constantly on the lookout for new trends and rushes to the latest hi-tech innovations soon as they become available is the "super living" lifestyle.
Through the Augmented Beauty concept, putting science and technology at the service of beauty, the Seppic teams developed the Insta Shield Foundation—a multi-protective serumlike foundation with natural coverage.
It offers selfie-ready beauty while protecting the skin from blue-light exposure thanks to the extract of Hedychium coronarium, Sakadikium (INCI: Glycerin (and) Water (Aqua) (and) Hedychium Coronarium Root Extract).
Total natural origin content for the formulation was 98.5%, per Seppic.
An eco shampoo concept offered a clear formulation with interesting viscosity. The highly rinsable formulation was 99.7% biodegradable and included low level of surfactants and cationic content.
It also included no rheological agent, with all the viscosity created by the surfactants. In application, the concept offered good frizz control, quick foaming and efficient cleansing.
Beauty During COVID-19
During a video conference, Elodie Brun, Seppic's beauty care market manager, noted that during the pandemic-related shutdowns, people had time at home to experiment with face and hair masks, offering a special spa-at-home moment for themselves.
Special report: Beauty's COVID-19 Playbook
Wellness beauty will be reinforced by this type of consumer moving forward, she added, particularly because the heart of clean beauty is safety, which is on everyone's minds.
Consumers will seek products and experiences free of contamination, said Brun, including airless packaging that communicates safety.
She added that consumers increasingly recognize that we are not going "back to normal," nor do they want to. Consumers link the current health crisis to the growing eco crisis in the world and are more than ever focused on water issues, biodiversity preservation and more.
For more information, contact Seppic.