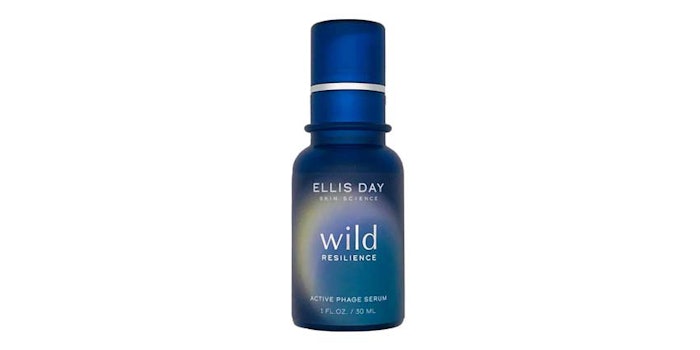 Based on a blend of natural bacteriophages, Wild Resilience is a serum from Ellis Day Skin Science designed to reset the microbiome for various skin benefits.
The main active ingredient is the company's Cutiphage blend (INCI: Water (Aqua) (and) Tromethamine HCl (and) Propanediol (and) Pentylene Glycol (and) Cutibacterium Acnes Bacteriophages (and) Sodium Chloride (and) Magnesium Sulfate).
According to the company, its activity is narrowly targeted and clinically proven to reduce inflammation and redness, combat blemishes and hormonal breakouts, minimize discoloration, calm sensitive skin, soothe irritation and prevent the appearance of fine lines. It does so through its effects on the skin microbiome.
To use the product, consumers are directed, at morning and/or night, to: 1) wash the face with a gentle cleanser; 2) apply 2-3 drops of Wild Resilience to clean and dry skin, covering the entire face (avoiding the eyes); then 3) apply moisturizer and any additional products as usual. If toner is used, it should be applied after cleansing and allowed to dry before Wild Resilience is applied, following with moisturizer as directed.
Users are cautioned not to use the product in combination with products containing benzoyl peroxide or where alcohol is the main ingredient. The product should be stored in a cool, dry place.
Additional product claims include: "clean," 100% vegan, cruelty-free, paraben-free, sulfate-free, phthalate-free, toxin-free, sustainable and recyclable.
Ingredients: Water (Aqua), Cutiphage, Glycerin, Sodium Levulinate, Magnesium Chloride, Acacia Senegal Gum, Xanthan Gum, Propanediol, Pentylene Glycol, Sodium Anisate, Phenethyl Alcohol.
Source: Ellis Day Skin Science web site