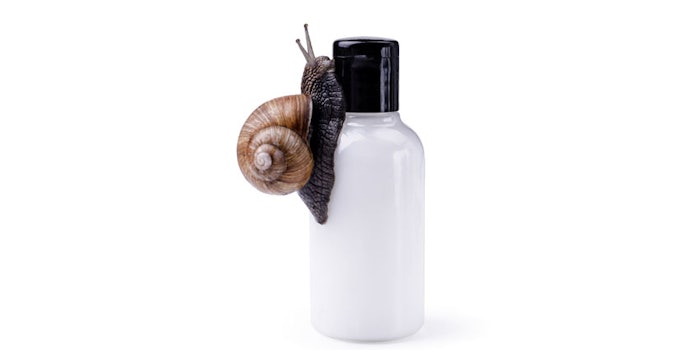 Italian-based La Lumaca Bio supplies and develops Helix aspersa snail burr mucopolysaccharide—also known as slime or bava—and snail burr-based products. The company notes the material is particularly suited to maintain skin health in various ways.
As explained on the company website, snail mucopolysaccharide, commonly called burr, is a secretion produced by glands located at the snail's foot. Extraction, or deburring, of this material from the animal is carried out under conditions of adequate temperature and humidity, without the addition of salt or other chemical substances.
Deburring occurs manually using food-grade containers and a stainless steel device operated by hand that simulates stimulation. This manipulation does not affect the animal's quality of life, thus achieving an optimal result both for the production yield of burrs per unit in kg of treated snails and, due to the absence of damage and stress, and ensuring most survive.
The collected snail slime passes through various stages of filtration, initially to remove residues and to clean it. It then is passed through pharmaceutical-grade filters to completely remove bacteria before it is subjected to microbiology control both before and after the addition of preservative. After due diligence checks, the burr is stabilized using a natural and Ecocert-approved preservative although upon request, other preservatives may be added; typically, 0.5% to 1.0% phenethyl alcohol (and) caprylyl glycol is used.
The ingredient exhibits healing and emollient properties for skin, thanks in part to its natural content of allantoin, which promotes epidermal turnover and favors moisturizing, soothing and revitalizing actions. The presence of glycolic acid also reduces cohesion forces between corneocytes by direct action on the desmosomes, promoting gentle exfoliation of the superficial layers of skin. This, in turn, speeds cellular turnover and produces an increase in fibroblast activity and the production of collagen and elastin. 
The burr is also used in wound healing to reduce small scars, and even in medicine, as a dry-cough syrup. More recently, the company reports its properties have been studied to reduce pain from deep burns and to improve the repair of damaged tissue.
The Snail Slime ingredient (INCI: Snail Secretion Filtrate) appears as an amber liquid, clear or slightly opalescent. It is completely miscible in water, is insoluble in vegetable or mineral oils, and is dispersible in o/w emulsions, with limited compatibility with ethyl alcohol. The pH can vary from 5.7 to 6.5.
For more information, visit the La Lumaca Bio website.