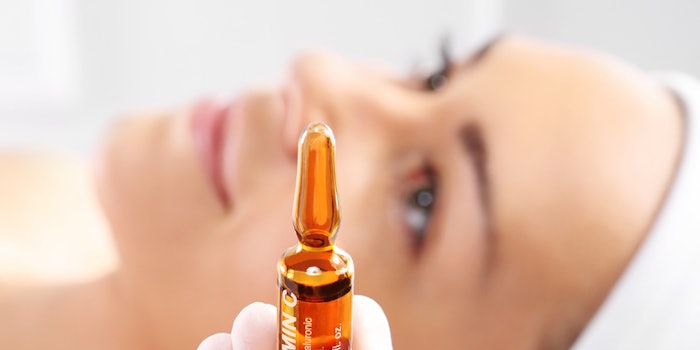 According to cosmetic ingredient innovator DSM, 'light medical beauty is an emerging trend' for noninvasive cosmetics that give immediate and visible effects. At PCHi this week, the company will highlight solutions for three such effects: skin whitening, lifting and hydration; plus, new data on its Alpine bioactive.
During the Personal Care and Household ingredients (PCHi) trade show, held Feb. 26-28, 2019, in Guanzhou, China, DSM's personal care and aroma ingredients business unit will showcase non-invasive topical solutions and new substantiation data for its Alpaflor Scutellaria AO (INCI: Scutellaria Alpina Flower/Leaf/Stem Extract (and) Glycerin (and) Water (aqua) (and) Citric Acid (and) Sodium Benzoate (and) Potassium Sorbate) bioactive. 
Defining 'Light Medical' Beauty
But first, what does light medical beauty mean? Fabrice Guillemard, the company's regional marketing lead, provided insights during his talk on February 26, 2019. And while it may seem to fall into a similar cosmeceutical or cosmetic actives camp, one may wonder whether this phrase will raise the eyebrows of scrutinizing regulators even higher?
In relation, Eve Chen, regional senior lab technician, will underline the importance of protecting consumers from UV exposure in her talk, "From Consumer Insights to Suncare Formulation Development," on February 27.
Active Effects of Scutellaria Alpina
Cosmetic active or "light medical beauty" ingredient; no matter how you define it, new findings support the claims that the company's Alpaflor Scutellaria AO relieves urban stress and comforts skin.
Based on the Alpine plant species Scutellaria alpina, the ingredient has been shown in vitro to activate gamma-butyric acid b (GABAb) receptors, which can protect the skin against barrier damage and reduce skin irritation and pain sensation. The bioactive also stimulates the release of β-endorphins, simultaneously calming and soothing sensitive skin.
Furthermore, a four-week in vivo study conducted in Beijnig's polluted environment confirmed the ingredient's ability to protect the skin barrier, keep the skin looking healthy and relieve dullness.
Bonus Benefits
Above and beyond the science, the ingredient supports organic, fair trade and sustainable claims. And due to its unique chemical profile, Alpaflor Scutellaria AO is fully traceable. The broader Alpaflor line is organically cultivated at high altitude in a pure, unspoiled environment and DSM actively contributes to the protection and preservation of these areas and their plants. Finally, the ingredient is halal, COSMOS and Natrue organic certified; is listed in China (IECSC and IECIC); and it is compliant for vegan products.
For more information, visit DSM's stand, 4D28, during PCHi.