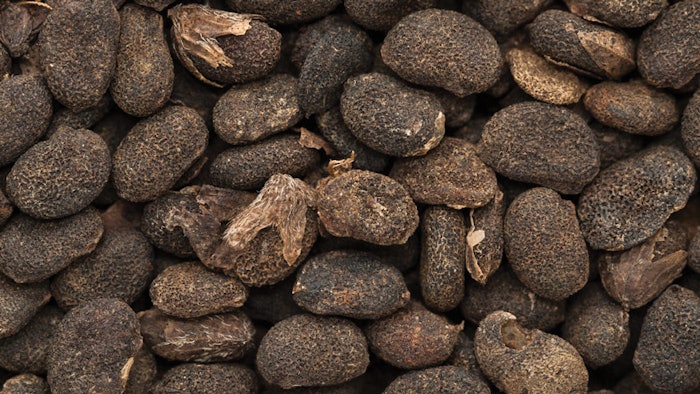 Editor's note: This article has been adapted with permission from our sister brand's, Skin Inc.'s, monthly column, "Jar Deconstructed." In it, the editors review research and commercial reports about an ingredient of interest, along with spa and professional products that apply the ingredient. This month's piece is borrowed from the July 2019 edition.
A person's beauty, as we know, is more than skin deep—and the same holds true for many plants and botanicals. Bakuchiol, for example, is one of many chemical entities found naturally in Psoralea corylifolia, commonly known as babchi.1 The plant itself is a rather small, average-looking herb that grows natively on the Indian plains, especially in semi-arid regions, and throughout the Indian Himalayas. It is also widely distributed in China and Southern Africa.1
See archived: Bakuchiol Shown to Reverse Cellular Mechanisms of Facial Aging
Within, however, this plant holds natural entities with powerful health and beauty benefits. Nearly 100 bioactive compounds have been isolated from the plant's seeds and fruits, the most prominent being coumarins, flavonoids and meroterpenes; bakuchiol is one of these meroterpenes.2 The well-known herbal remedy has been used since ancient times in ayurvedic and Chinese traditions to treat ailments ranging from alopecia, inflammation and leukoderma, to leprosy, psoriasis and eczema.2
Health Benefits
Research shows bakuchiol can benefit health by protecting the heart, liver, skin and other organs;3 although one study notes reports of reducing cardiac hypertrophy remain unclear.4 Additional effects include modulating cardioprotective pathways to reduce heart damage; inhibiting liver fibrosis; and relieving liver damage by suppressing oxidative stress and changes due to inflammation.
Furthermore, bakuchiol inhibits the proliferation of certain cancer cells, including in the stomach, breast and skin.3 It can protect against bone loss and delay osteoporosis by exerting estrogen-like effects. It also reduces blood glucose and triglycerides, and could be used to protect against diabetes progression, among other uses.3
See archived: [podcast] Bakuchiol Anti-aging: Retinol Equal, Opposite Action
Retinol-like Anti-aging Effects
With reported antioxidant, antibacterial, anti-inflammatory and anti-aging activities,5 it is not difficult to envision how bakuchiol might apply to skin care. In fact, it has been shown to slow the signs of skin aging by preserving skin collagen3 and inhibiting melanin.5
Early studies had suggested bakuchiol to be a functional analog of topical retinoids, as it induced similar gene expressions. As such, bakuchiol was tested and found to be just as effective as retinol—with less skin scaling and stinging. For example, a study5 published in the British Journal of Dermatology showed that bakuchiol and retinol equally decreased wrinkle surface area and skin hyperpigmentation. The improvements in skin were significant—although not statistically significant from one another. Bakuchiol also was better tolerated than retinol.
Anti-acne and Antibacterial Activity
Meroterpenes in general but especially bakuchiol have also been reported to exhibit strong antibacterial effects,6 so another study examined the ingredient's potential anti-acne activity. Here, a specific 95% pure meroterpene obtained from Psoralea corylifolia seedsa was evaluated. In addition, its possible combination with salicylic acid was tested.
The study6 showed bakuchiol to impart broad-spectrum antioxidant activity and to effectively quench various free radicals, in addition to inhibiting the degradation of skin lipids. The authors noted these findings aligned with similar reports in the literature.
The clinical study also demonstrated that bakuchiol effectively reduced acne, and was more effective when combined with salicylic acid. Formulations containing 1% bakuchiol plus 2% salicylic acid showed a nearly 70% reduction in acne lesions and inflammation. Furthermore, 1% bakuchiol alone reduced acne by a score of about 57%, whereas 2% salicylic acid only reduced acne by about 48%.
Once again, bakuchiol demonstrated an excellent safety profile, as it was shown to be non-irritating and non-sensitizing based on human repeat insult patch testing.6
Another example from the patent literature7 describes an acne treatment including bakuchiol-containing hydrolyzed Psoralea corylifolia solubilized in a water-based gel or cleanser. In specific iterations, the bakuchiol is combined with ingredients including bisabolol, salicylic acid, benzoyl peroxide, tretinoin, retinol, tazarotene and/or an antibiotic, or combinations of these.7
Anti-inflammatory Agent
Finally, bakuchiol has been found to act upon the NF-κB pathway to reduce inflammation. In the context of cardiac hypertrophy, research suggested bakuchiol could alleviate this condition;8 although other work found such effects to be inconclusive.4 Interestingly, however, the reported activity was attributed to the ingredient's ability to block the activation of the NF-κB signaling pathway—which according to research published in Genes and Development, has been identified as the transcription factor most associated with mammalian aging; including photoaging.9 The same work9 also showed that inhibiting NF-kB promotes younger-looking skin.
In the Spa
Although bakuchiol is a buzzworthy ingredient in the skin care industry, it has not yet surfaced as a cornerstone ingredient in treatments menus. That doesn't mean it is not being used there, as many spa product manufacturers are formulating with the ingredient. Rather, bakuchiol still hasn't risen in the ranks with the likes of peptides, rose, lavender and stem cells as a marketable skin care ingredient.
Nevertheless, skin care professionals can find bakuchiol in a host of treatment and home care products, largely for the treatment of aging and acne. Sorella uses the ingredient in its Facial in a Bottle, an azelaic serum that reduces the appearance of hyperpigmentation, fine lines and wrinkles. Bakuchiol is tapped for its retinol-like activity. The company notes that the ingredient stimulates collagen, rebuilds the skin and controls oil without the peeling of its counterpart.
Luzern incorporates bakuchiol in both its Nuit Retinol Crème Intensive and its Nuit Retinol Crème Luxe, where it is paired with retinol to boost the active's function. The company adds that although bakuchiol bears no structural resemblance to retinoids, it functions in the same way. It upregulates types I and IV collagen and stimulates type III collagen while also boosting the reparative power of retinol.
CelleCle also pairs retinol with bakuchiol in is Multiglow night treatment. In the treatment, bakuchiol serves as a broad-spectrum, anti-aging, firming antioxidant with retinol gene activation activity.
I'm Fabulous Cosmetics formulates with bakuchiol in its Retinol Cream Organic. In the product, the company uses plant sources of retinol such as rosehips in addition to plants with retinol-like activities such as bakuchiol. The company notes that bakuchiol is an ayurvedic oil that helps calm and soothe skin inflammation. It also works to correct dark spots and skin imperfections.
Bakuchiol is incorporated in Vanda Skin's Skin Lover, where it is combined with antioxidants and anti-inflammatories as an essential co-factor for antioxidant enzymes and to provides protection.
The ingredient is also included in PCA Skin's Intensive Clarity Treatment, along with retinol and salicylic acid. The product uses bakuchiol to complement retinol in fighting breakouts.
Conclusions
So as it turns out, once again, Mother Nature has cultivated solutions to various skin afflictions; one only has to look beyond the surface.
References
1. www.ncbi.nlm.nih.gov/pmc/articles/ PMC3249905/
2. https://onlinelibrary.wiley.com/doi/abs/10.1002/ptr.6006
3. www.sciencedirect.com/science/article/abs/pii/S1043661818316426
4. www.bioscirep.org/content/38/5/bsr20181043.abstract
5. www.cosmeticsandtoiletries.com/testing/efficacyclaims/Could-Bakuciol-Be-Retinol-s-Match--490751361.html
6. www.cosmeticsandtoiletries.com/formulating/function/antimicrobial/premium-Bakuchiol-in-the-Management-of-Acne-affected-Skin-215695021.html
7. www.freepatentsonline.com/y2018/0064777.html
8. www.ncbi.nlm.nih.gov/pubmed/30242058
9. www.futurederm.com/is-nf-kb-inhibition-the-secret-to-skin-aging/
a Sytenol A (INCI: Bakuchiol) is a product of Sytheon Ltd., USA.