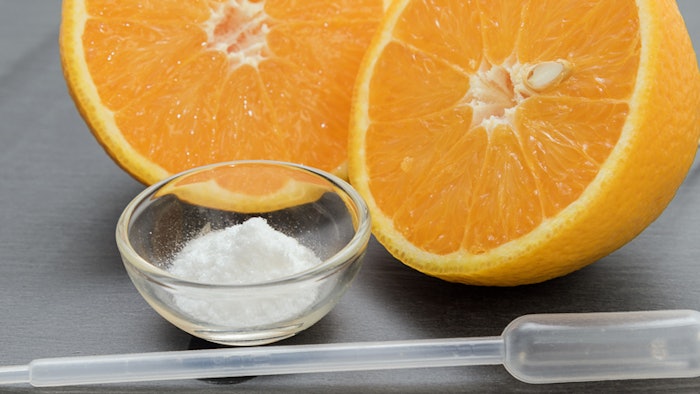 Shin-Etsu Silicones of America (SESA) premiered an anhydrous, stable and sensorial silicone emulsion system with 10% L-ascorbic acid (AA) during the SCC 76th annual showcase (SCC76).
See related: Ingredient Profile; Ethyl Ascorbic Acid, Small but Mighty 
While vitamin C (ascorbic acid) is well-known for improving skin pigmentation and increasing collagen, it also degrades and oxidizes in the presence of water, oxygen and light, losing much of its efficacy. According to the company, its Formulation CAL16-60 overcomes such vitamin C stability issues.
SESA's poster demonstrated how CAL16-60 — which combines three key ingredients: KF-6105 (INCI: Lauryl Polyglyceryl-3 Polydimethylsiloxyethyl Dimethicone), KSG-710 (INCI: Dimethicone (and) Dimethicone/Polyglycerin-3 Crosspolymer) and USG-1010 (INCI: Dimethicone (and) Vinyl Dimethicone/Dimethicone Crosspolymer) — stabilized 10% AA in a non-aqueous emulsion (polyol in oil).
Related: Shin-Etsu Enhances Sensory with Silicone Fluid, KF-4422
After significant research and testing, the company found that silicone gels improved the texture and eliminated the greasy feel of formulas while emulsifiers such as KF-6105, which SESA referred to as the most critical, achieved stability. The final formulation is described as an opaque lotion that has a non-greasy, velvety texture and absorbs quickly with a powdery, non-tacky after-feel.
Janine Cherette, SESA cosmetics application laboratory team leader, commented: "It's challenging to create a stable system with superior sensory effects in vitamin C. This is SESA's first foray into the vitamin C arena after many years of work, and we were able to accomplish a highly unique and effective silicone formulation that achieves these essential goals."