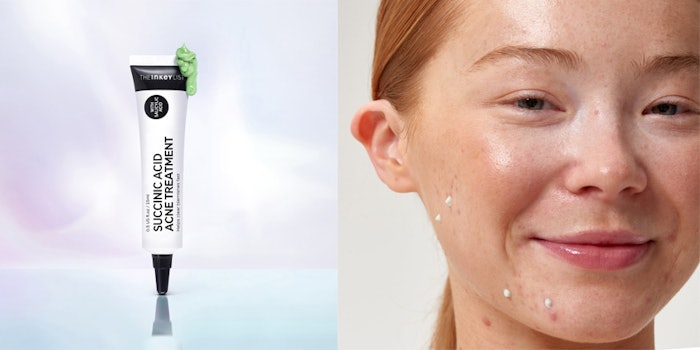 https://www.theinkeylist.com/products/succinic-acid
This 'Read the Label' looks at anti-acne care with a review of The Inkey List's Succinic Acid Acne Treatment.
Previously: Read the Label: The Inkey List Zinc Moisturizer with SPF 50
Background
Founded by Colette Laxton and Mark Curry in 2018, the British beauty brand The Inkey List was born. The pair had a background in beauty buying and new product development, and wanted to create an affordable but efficacious brand.
Laxton and Curry understood that particularly in skin care, there was and still is a lot of jargon that consumers did not understand. The two created The Inkey List brand to simplify scientific terminology and enable consumer understanding.
As most readers will know, the name The Inkey List is a play on words, taken from the International Nomenclature Cosmetic Ingredient (INCI) terminology used by the cosmetic science industry and in ingredient disclosures on product labels. The brand has a huge cult beauty following with online skin care enthusiasts and this big online presence has helped transform this company into a global sensation.
In January 2020, the brand used some of its marketing budget to pay full-time skin care advisers to launch a new service, askINKEY. This is a part of its website, where consumers can ask questions about products and their skin, ask for recommendations, etc. The aim of the service is to empower and deliver knowledge whilst being accessible to all. This online community will further expand the brand's presence as it continues to grow.
Product Review
In terms of the product under review, there are some claims associated with this acne treatment cream:
84% of people agreed this product didn't dry out the skin;
96% agreed this product was gentle on the skin; and
85% agreed this product was not visible under makeup.
The Inkey List also states that the product clears blemishes fast, reduces inflammation and prevents clogged pores. The key benefit from this cream formula is that it is non-drying, as many acne products cause severe skin dryness.
The main ingredient in the formula is succinic acid, used at 2%. This gentle acid will reduce blemish size, reduce oil levels and unblock pores while also helping to prevent pores from clogging again after use. Combined with 2% sulfur and 1% salicylic acid, these ingredients will help to shrink blemishes and blackheads.
The following ingredients in bold are ones I believe are strongly contributing to the product's performance and claims:
Ingredients: Water (Aqua), Caprylic/Capric Triglyceride, Glyceryl Stearate SE, Stearic Acid, Cetearyl Alcohol, Colloidal Sulfur, Glycerin, Succinic Acid, Hydroxyethyl Acrylate/Sodium Acryloyldimethyl Taurate Copolymer, Salicylic Acid, Phenoxyethanol, Squalane, Benzyl Alcohol, Sodium Hyaluronate, Polysorbate 60, Ethylhexylglycerin, Sodium Hydroxide, Dehydroacetic Acid, Malachite Extract, Sorbitan Isostearate, Trisodium Ethylenediamine Disuccinate, CI 75810 (Chlorophyllin-Copper Complex)
Editor's note: While the "Read the Label" series provides an overview of the ingredients cosmetic manufacturers use and their related claims, without use levels or access to clinical studies, the author is drawing conclusions based on speculation—albeit from training, formulating experience and, in some instances, evidence in the literature. The following is offered for your consideration and further verification.
Colloidal Sulfur
Used at 2%, sulfur powder reduces excess oil without drying the skin, helps unclog pores and reduces future breakouts. Not only can this ingredient be used in anti-acne products, but it also has been proven effective in anti-dandruff products. Like most sulfur products, it has a slight distinctive aroma. 
Related: Sunday Riley Lands on Saturn Sulfur Acne Treatment Mask
Glycerin
Glycerin will act as a formulation aid to help mix the powdered colloidal sulfur into the cream without forming lumps. If you mix glycerin and the sulfur together to form a premix, it can then be added into the water phase of the product before homogenization to ensure a smooth cream.
As most know, glycerin has many other benefits, especially providing moisturization to the skin as a powerful humectant. It will also help to keep the product wet over time, and will help combat any drying effects from the salicylic acid used in this formula. 
Succinic Acid
In my opinion, succinic acid is the main active ingredient in this formula. However, as succinic acid data to treat acne was only published recently, it has not yet been registered as a drug with the U.S. Food and Drug Administration (FDA). Due to this, technically the brand cannot claim the product is an "acne treatment" using this ingredient alone; hence why salicylic acid is also included in this formula.
Salicylic acid is registered as a drug, which means legally if a product contains salicylic acid at certain levels, this supports an anti-acne claim. Registering a material as a drug with the FDA is a complex procedure and can take 10+ years and a lot of money, which can sometimes kill innovation. However, these steps have been deemed essential for the safety of the public.
I have read the data behind succinic acid and in my view, it's impressive—even outperforming salicylic acid particularly for reducing sebum levels on the skin. It's much gentler and has less of a drying effect while reducing acne and causing less irritation to the skin barrier. In this formula, succinic acid is used at 2% and the acid is naturally derived from corn. 
Salicylic Acid
The aforementioned salicylic acid has been used for many years in cosmetic and pharmaceutical products all over the world for its powerful anti-acne and keratolytic (skin-peeling) properties. Usually existing in crystal powder form, this acid can be challenging to formulate with, as taken from my own experience.
It has limited solubility as it only solubilizes in certain glycols but can be tricky in water or alcohol. Many materials work in synergy with salicylic acid to boost their performance but it can also be used alone and still be effective.
Archived: SCCS Deems Salicylic Acid Safe for Preservation and Cosmetics, Anti-acne Still a Question
In this product, it is used at 1% and it helps to unclog pores due to its keratolytic effect. As an asife, interesting fact: salicylic acid is the main ingredient in aspirin! 
Squalane
Humans naturally produce squalene, which is an oil found within the lipid bilayer that contributes to the skin's natural moisturizing factor. The difficulty with squalene is that it is often unstable due to its alkene structure. This means it can turn rancid over time by discoloring or by forming a malodor.
Squalane is a hydrogenated version of squalene, meaning that it contains more hydrogen and is therefore more stable due to its alkane structure. Because squalane is so much like squalene, it has a natural affinity for the skin and is fast absorbing, to provide moisturization and suppleness.
Sodium Hyaluronate
This is an anti-aging/moisturizing ingredient that provides a plump, soft skin feel after use. I would hesitate a guess that in this formula, it is a high molecular weight grade but wouldn't know for sure with this general INCI name.
Higher molecular weight grades are known for their enhanced sensory performance and for instant hydration claims as they can take up to 1000× their weight in water from 5-12 hr. The lower molecular weight grades tend to be more expensive and penetrate deeper into the stratum corneum for longer-lasting anti-aging results, which has been linked with increased collagen production. In this product, sodium hyaluronate is used at 0.4% to keep the skin hydrated. 
Malachite Extract
Malachite is a precious, green gemstone and this ingredient is a liquid extract of the stone. Malachite is naturally high in copper, which gives it its green color and it provides powerful antioxidant benefits against external aggressions such as pollution. 
CI 75810 (Chlorophyllin-Copper Complex)
This acne treatment product has a distinctive green color upon use. Its coloration mostly comes from this ingredient, which is obtained from natural chlorophyll derived from plant pigments. To combat redness, green is used as a visual color corrector to neutralize the red color formed from blemishes.
Use Instructions
To use this acne treatment, the brand suggests applying it to a blemish up to three times per day. A small amount should be dispensed from the tube onto a clean finger and applied directly onto the blemish. As might be expected, the product is designed for individuals with blemish-prone skin. 
This succinic acid acne treatment product can be purchased online or through beauty retailers for £6.99 for 15 mL ($8.99 for 15 mL). 
Source:The Inkey List
Disclaimer: This article was produced in the UK and therefore the INCI listing and INCI names comply with European labeling requirements.