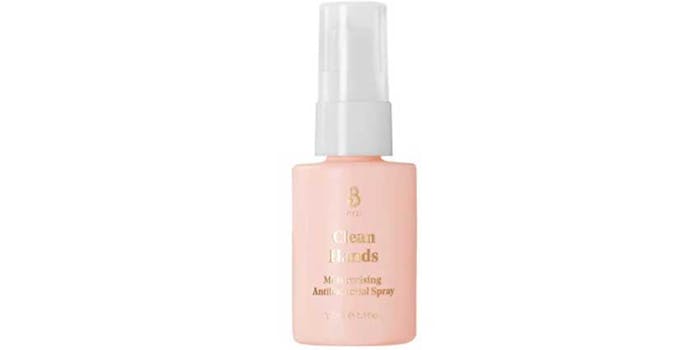 biby.com
This 'Read the Label' looks at hand sanitizers; in particular, BYBI's Clean Hands Moisturizing Antibacterial Spray, which reportedly only uses natural, vegan and cruelty-free ingredients as a way to be a part of the 'clean' beauty movement. 
Featured: Certified 'True': Green Virtues in Beauty, Part II
BYBI founders Elsie and Dominika started in 2015 with an online blog, "Clean Beauty Insiders." This platform focused on natural beauty, product reviews and industry news. The site became popular, particularly in the UK due to its "clean" beauty focus, and three years later, Elsie and Dominika ventured into cosmetic science and began formulating their own cosmetics brand–BYBI (By Beauty Insiders).
BYBI is a skin care brand that focuses on "clean" beauty, using 100% natural, vegan and cruelty-free ingredients. The brand claims that this product is a 65% alcohol, vegan sanitizing spray to moisturize, soothe and calm dry hands while reducing levels of bacteria. The spray application makes it convenient to use while ingredients such as propanediol work to hydrate rough hands and counterbalance any drying effects of the alcohol.
High levels of glycerin attract moisture to the skin, leaving hands soft and smooth but not sticky. A blend of calming lavender and green tea helps to reduce redness, soothe inflammation and nourish dry hands that have been over-washed. The lavender also leaves a subtle and pleasant scent.
To use the product, it is recommended to be sprayed liberally and regularly onto the front and back of hands, covering the entire surface area. Then, allow it to dry fully, with no need to rinse.
The ingredients below in bold are ones that I believe are strongly contributing to the product's performance and claims.
Ingredients: Alcohol Denat., Aqua, Propanediol, Glycerin, Xylitylglucoside, Anhydroxylitol, Lavandula Angustifolia (Lavender) Oil, Linalool, Xylitol, Camellia Sinensis (Green Tea) Leaf Extract, Lactic Acid, Geraniol, Isoeugenol.
Editor's note: While the "Read the Label" series provides an overview of the ingredients cosmetic manufacturers use and their related claims, without use levels or access to clinical studies, the author is drawing conclusions based on speculation—albeit from training, formulating experience and, in some instances, evidence in the literature. The following is offered for your consideration and further verification.
Alcohol Denat.
Denatured alcohol is ethanol that has been chemically denatured with additives to prevent consumption by giving it a foul taste and by making consumers feel nauseous. Both denatured and undenatured alcohol work effectively in sanitizers to kill bacteria but by using an undenatured grade, besides risk of consumption, cosmetic products are subject to additional taxes. Because of this, consumers will most commonly find denatured grades used.
Related: Comparatively Speaking: Cleaning, Sanitizing, Disinfecting and Sterilizing
The World Health Organization (WHO) recommends that for an effective hand sanitizer to kill bacteria, the alcohol content must be more than 60%. This product claims 65% denat. alcohol. Other benefits of using alcohol in formulations are for its quick-drying effects, hence why it is often used in the bases of fragrances and for its cooling properties, ideal for after-shave products.
Propanediol
In this product, this ingredient is a corn-derived, natural, colorless solvent. It can also be produced synthetically but the brand claims the natural grade is used here. Propanediol is a humectant that draws moisture into the skin and will help prevent the sanitizer from drying out in its packaging.
Propanediol has preservative-boosting properties, which means in some cases, formulators can lower the percentage of preservatives used in products and still achieve safe results. In this product's case, the alcohol will prevent bacterial growth.
Glycerin
This is a cost-effective humectant that supports long-lasting skin hydration claims when used at more than 5%. High levels of glycerin can add stickiness to a product but this can be reduced by adding other materials such as propanediol and alcohol.
Xylitylglucoside, Anhydroxylitol, Xylitol
Using high levels of alcohol in sanitizers can by drying for the skin but these powerful humectants help to keep hands moisturized and smooth after use. Xylitol is commonly used in oral care and is naturally derived, typically from fruits and vegetables (commonly corn, starch or sugar cane) and provides a sweet taste while reducing plaque formation. It also is safe for ingestion; the human body actually produces 5-10 g of it daily.
Lavandula Angustifolia (Lavender) Oil
Lavender essential oil is commonly extracted via steam distillation from the purple flowers to produce its iconic, calming fragrance. This method produces high yields of lavender essential oil. Lavandula angustifolia is known as "true lavender" and is a premium-grade with high quality. There is also Lavandula latifolia, which is a premium-grade with medium quality and Lavandula hybrida, which as the name suggests is a hybrid grade of true and aspic lavender. 
Camellia Sinensis (Green Tea) Leaf Extract
This powerful antioxidant contains green tea catechins. It helps with skin repair by reducing free radical damage and has other anti-aging benefits, too. It can additionally help to reduce the appearance of redness.
Bonus Benefits
What I like about this product is that BYBI has a recycle scheme where you can send back empty packaging and the brand will sterilize and reuse it again. The company also has donated 3,000 units of this sanitizer spray to NHS staff, key workers and beauty bank charities across the UK. 
You can buy this sanitizer through BYBI's website for £5.50 for 30 mL ($8 for 1.1 fl oz) or through other beauty retailers.
Source: BYBI

Disclaimer: This article was produced in the UK and therefore the INCI listing and INCI names comply with European labeling requirements.