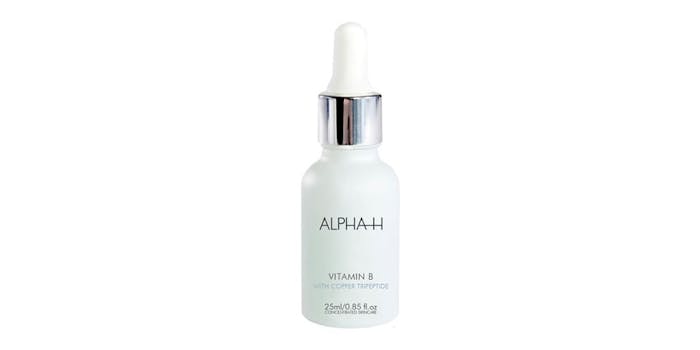 Cult Beauty
Alpha-H's Vitamin B Serum is designed to help tackle daily environmental damage, simultaneously minimizing the appearance of premature aging.
The formula owes its efficacy to well-known outstanding ingredients: niacinamide (vitamin B3), which enhances the skin's natural barrier to reduce moisture loss and enhance supple firmness; and copper peptides combined with amino acids, creating what the company refers to as a kind of "daily protein powder" to energize and invigorate the complexion, and also to promote elasticity.
In addition, the "super food" (and super moisturizer) chia seed is included, which is rich in omega-3 and 6 essential fatty acids, as well as tocopherols. The company describes the lipid-rich extract as high in antioxidants and proven to significantly increase skin hydration and further reduce moisture loss. Finally, extracted from rice bran oil, ferulic acid is said to be one of nature's most powerful antioxidants and an important component to help diminish the appearance of uneven skin tone.
Additional product claims include: promotes elasticity, suppleness and hydration; gives a firmer, plumped up appearance to the skin; helps diminish the appearance of uneven skin tone; helps prevent the appearance of premature aging; and enhances skin's natural barrier. Users are instructed to apply 2-3 drops of the product each morning to clean face, neck and décolletage areas, avoiding the delicate lip and eye areas. It can be followed with a preferred daily moisturizer.
Finally, the product is said to be suitable for all skin types as well as those that are sun damaged, dehydrated and prematurely aged. This column will review the ingredient listing for claims substantiation and functionality. 
Editor's note: This article aims to provide an idea of the ingredients cosmetic manufacturers are using that could potentially support the stated product claims. Without specified use levels or access to clinical studies, the author is drawing conclusions based on speculation; albeit from years of clinical experience and, in some instances, evidence in the literature. The following is offered for your consideration and further verification.
Hydrating Base
The formula is a water based system containing the humectant glycerin and the hydrating macromolecules of hyaluronic acid and sodium hyaluronate. Sodium PCA, the sodium salt of pyrrolidone carboxylic acid, is a hydrating agent known to improve the condition of dry skin.
Active Ingredients
Niacinamide, an amide of vitamin B3 (niacin), is a hydrophilic compound with anti-itch, antimicrobial, photo-protective, antiinflammatory, sebum-reducing and skin-lightening effects properties. Panthenol has been shown to improve stratum corneum hydration and barrier function by reducing transepidermal water loss, maintaining skin softness and elasticity.
Chia seed extract is rich in α-linolenic acid that the body cannot synthesize, and has been shown to improve itchy skin. Ferulic acid has anti-inflammatory, antioxidant and antimicrobial activity. It is also a free radical scavenger with a protective role for the skin that inhibits melanogenesis and is widely used as a photo-protective and brightening agent.
Protect and Repair Agents
Lactobacillus ferment has been shown to improve atopic dermatitis and skin resistance to oxidative stress, while wheat amino acid is useful as a conditioning agent to improve skin hydration. Copper Tripeptide-1 has been reported to impact tissue remodelling, and have anti-inflammatory and antimicrobial activity. Hydroxyproline is known to increase skin hydration.
Sensory Modulators and Preservatives
Methyl gluceth-20 and caprylyl clycol are humectants, able to modify product viscosity. Polyacrylate crosspolymer-6 is a viscosity and skin feel modulator. The formula is preserved by phenoxyethanol, and CI 42090 (Blue 1) provides the blue color of the formula.
Conclusions
In my view, the ingredients support the claims for promoting skin hydration and elasticity. They also are capable of enhancing the skin barrier and reducing the appearance of uneven skin tone while preventing premature aging.
Ingredients: Water (aqua), Glycerin, Niacinamide, Methyl Gluceth-20, Salvia Hispanica Seed Extract, Sodium PCA, Panthenol, Phenoxyethanol, Ferulic Acid, Hyaluronic Acid, Polyacrylate Crosspolymer-6, Wheat Amino Acids, Caprylyl Glycol, Sodium Hyaluronate, Disodium EDTA, Citric Acid, Lactobacillus Ferment, Copper Tripeptide-1, Hydroxyproline, CI 42090 (Blue 1).
Sources: Alpha-H website and Cult Beauty