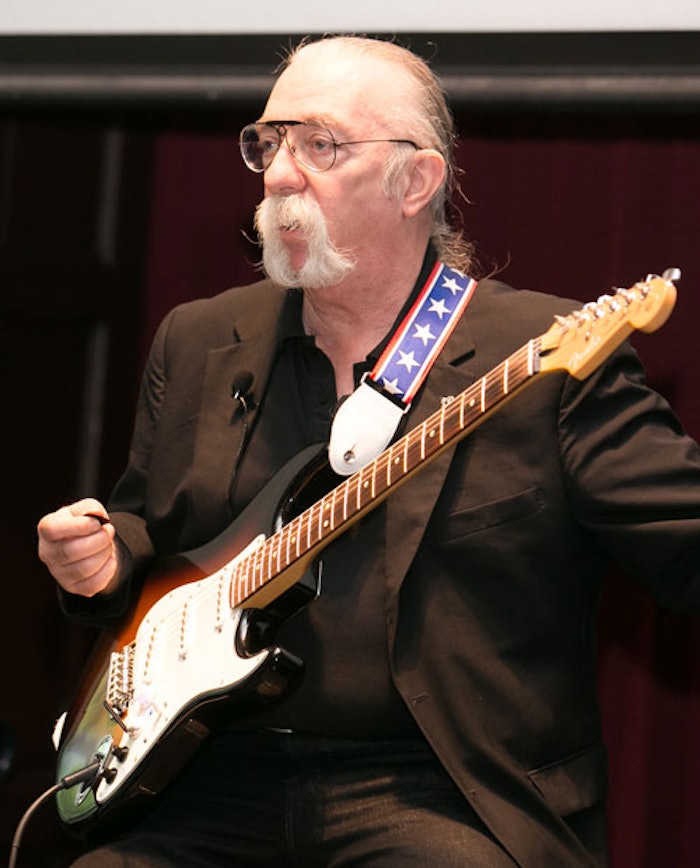 Philadelphia, USA—"Analysis, synthesis, creation and destruction" was the secret recipe behind keynote speaker Jeffrey Baxter's guide to unconventional thinking for problem-solving. During the Cosmetics & Toiletries Summit, held June 22-23, 2015, at the University of Pennsylvania, Baxter, a musician-turned national security advisor, demonstrated for attendees how jazz and music in general can serve as an analytical tool.
"If you take apart a composition, then re-synthesize its individual chords and notes, you get a completely different outcome." He eloquently gave the example of Pachelbel's "Canon in D," which has been re-interpreted by various musicians over the years. For example, the Bee Gees' "The Spicks and the Specks," Coolio's "C U When You Get There," and Blues Traveler's "Hook" songs all follow the same chord progression as Pachelbel, but with dramatically different results.
Baxter's point carries over to his current career with the U.S. government. He described himself as the "hippie musician," giving new perspectives on defense initiatives by the U.S. government; in fact, his ideas originally landed him the gig. His day-to-day interactions continue to demonstrate how, with experts deconstructing and rebuilding the same project, novel new solutions are built.
He observed, "Most of world's foremost experts in the various fields we work with also are musicians."
Not surprisingly, the same could be said for many cosmetic scientists. During the question/answer session, one attendee asked what he could do to inspire creative thinking and problem-solving in his own children. Baxter's answer was: encourage music and sports. Sports may seem a stretch from music and art but Baxter explained the multifaceted thought processes of an athlete.
"Consider a basketball player," he said, whom most would see as a player driven to simply put the ball in the hoop. "He's more than a basketball player. He anticipates defensive moves, reacts in real-time and strategizes on the fly. He's analyzing moves, synthesizing a plan, creating new ideas and deconstructing what the opposing players are doing."
Attendees connected strongly with the concepts put forth. Feedback ranged from, "The keynote was phenomenal—where did you find him?" and "Baxter was amazing!" to "That was fantastic! You guys are off to a great start!" But above all, when these responses were met with the question: Do you think you can take his ideas back and apply them to product development? The answers emphatically were, "Yes."
The C&T Summit organizers gratefully thank the Society of Cosmetic Chemists for sponsoring this compelling presentation. Stay tuned to CosmeticsandToiletries.com as creative knowledge shared at this year's C&T Summit is rolled out. Note that the C&T Summit will take a hiatus in 2016, in support of the International Federation of the Societies of Cosmetic Chemists (IFSCC) Congress in Orlando—but watch for a strong comeback in 2017.