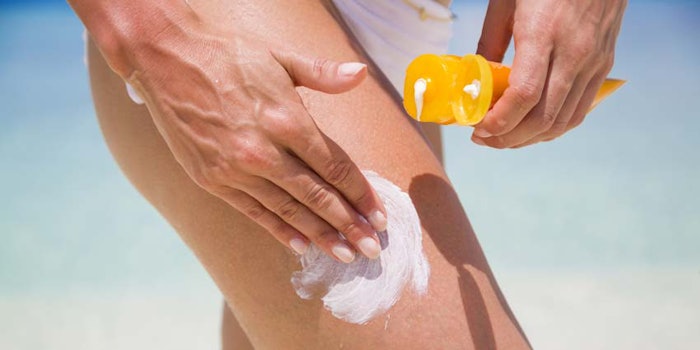 The European Union's (EU) Observatory for Nanomaterials (EUON) commissioned a study analyzing existing research on whether nanomaterials used in consumer products, such as cosmetics, and at work places are absorbed through the skin. 
The study was carried out by the RPA consortium of Triskelion and RIVM, which performed a literature search on PubMed using specified keywords and search strings, as well as in-depth analysis, with the goal "to gather, evaluate and summarize the knowledge available regarding dermal penetration and absorption of nanomaterials used in consumer products and occupational settings."
This study built upon a previous study of the literature through 2013 for the Danish Environmental Protection Agency. Nearly 1,380 references were reviewed in depth and narrowed down based on exclusion parameters; such as access to the full studies.
Based on the findings, the researchers concluded nanomaterials including titanium dioxide—especially coated and non-positively charged—rarely absorb through intact skin. The main exception was silver, which was found likely to partly penetrate in ionic form. Some of the studies also suggest absorption through damaged skin, as would be expected, is higher than through intact skin.
Based on the findings, the researchers concluded nanomaterials rarely absorb through intact skin.
A key recommendation from this study is that any new studies aiming to provide proof of absorption (or not) through the skin be performed in external environments with minimal alterations to natural conditions (ex vivo), comparable to OECD Test Guideline 428, with human or porcine skin. Rodent skin should not be used due to differences in skin characteristics between rodents and humans.
See related: Danish EPA Suggests Nano-cosmetic Provisions
This study covered experimental data including tests performed inside the bodies of living organisms (in vivo) and ex vivo studies. It looked at factors associated with test methodology that can affect absorption through the skin, for example: exposure conditions, experimental set-ups, permeation enhancers and methods. The effects of the characteristics of nanomaterials on skin absorption, including particle size and surface charge, were also analyzed.
In addition to compiling relevant studies, the study looked at test guidelines and whether the results were available in a structured way; for example, following OECD harmonized templates.
For further details, see the full review article.