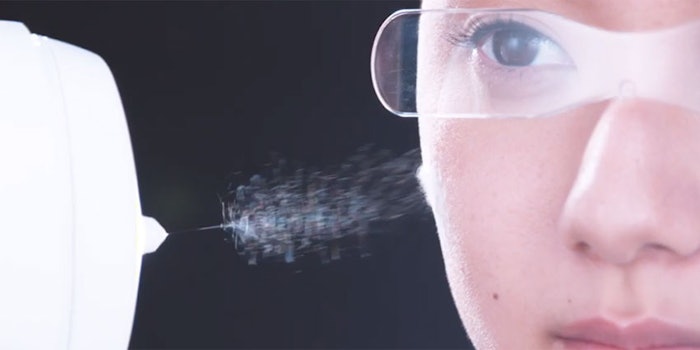 Kao Corp. has applied its "Fine Fiber" technology to create a membrane that demonstrates moisture permeability, controls water evaporation and can activate protein expression in skin.
The technology was developed in 2018 and uses direct-spraying to skin to create a light, soft and natural layer of ultra-thin membrane composed of sub-micron-sized, super-fine fibers on the skin's surface. More specifically, a specialized polymer solution is sprayed through a small-sized applicator nozzle developed for this use, which forms the membrane with interwoven fibers smaller than 1 μm in diameter. The resulting membrane is not only light and soft, but also demonstrates a high capillary force.
According to the company, the technology was inspired by moist healing methods, which are widely used for wound care. Previous studies by Kao showed that moisture permeability of the stratum corneum could be controlled via this novel formula. The formula also increased the expression of several proteins that provide favorable skin conditions in the stratum corneum and, within a short period of time, early improvements in dry skin appearance were observed.
Based on these findings, Kao developed a small, high-performance diffuser that embodies the "Fine Fiber" technology to create a layered, ultra-thin skin care product, which will launch in the cosmetic field on December 4, 2019, under the Kao brand est and the Kanebo brand SENSAI, which the company notes will offer a new night time skin care routine combining the ultra-thin membrane formed by the diffuser with essence.
Following the skin care product, Kao expects to advance the development of makeup, to impart a natural look while firmly covering pores, uneven skin color and blotches, as well as body makeup that allows painting the skin at desired sites on the body. Furthermore, dermatological applications are another next iteration.
Kao notes the membrane has a high capability to keep makeup on but at same time, enables users to remove it easily and whenever they want. For more information on the technology and studies, visit the Kao Corp. website.