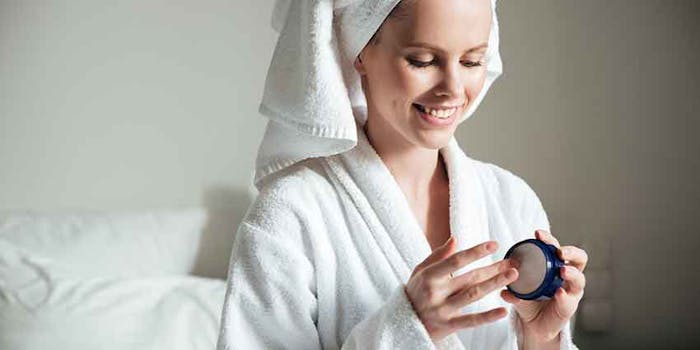 Fragrances have become ubiquitous in skin and hair care products to appeal to the consumer's senses. However, fragrances have been associated with allergic contact dermatitis in applications including: unspecified leave-on products, sun tan lotion,1 deodorants,2 scented lotion, unspecified rinse-off products, fine fragrances, shampoo, liquid soap, aftershave, lipstick, sunscreen, hair styling products, shaving foam, mascara, hair dye, eye shadow and makeup cream. An example of typical allergic contact dermatitis of the axilla due to a deodorant fragrance is shown in Figure 1. While some dermatologists recommend avoiding all fragrances yielding positive patch test results, as shown in Figure 2, it has become increasingly difficult to avoid all fragrances and in the end, may be unnecessary for the patch test positive patient.
To identify dermatitis caused by fragrance, a patch test3 for common aromatic allergens was designed in which two fragrance mixes using putative common allergens served as screens. Fragrance Mix #1 (FM1) was developed from the fragrances used in an antifungal cream that had caused an allergic contact dermatitis epidemic.4 It comprised: Evernia prunastri (oak moss), isoeugenol, cinnamyl alcohol, eugenol, cinnamal, geraniol, α-amylcinnamal and hydroxycitronellal. Fragrance Mix #2 (FM2), a later attempt5 to identify fragrance allergens, consisted of hydroxyisohexyl 3-cyclohexene carboxaldehyde (HICC), farnesol, citral, hexyl cinnamal, citronellol and coumarin. These materials are considered EU fragrance allergens; Table 1 lists them with their FM designations, along with additional EU fragrance allergens. These mixes have been used in fragrance allergy testing reported in the literature, which are reviewed here.
Preliminary Questionnaire
The diagnosis of a fragrance contact allergy always starts with a detailed medical history. Schollhammer et al. developed a questionnaire to determine if consumers had a "certain, probable or possible" allergy to fragrances based on their recollection of adverse reactions to perfumes or perfumed products.6 In this questionnaire, the "certain" allergy included an itching dermatitis reaction to at least one fine perfume or aftershave, and reactions to other perfumed products. The "probable" allergy involved reacting to one or more perfumed products (e.g., deodorant) but no specific perfume being identified as causing the clinical reaction. The "possible" allergy meant reacting to various cosmetic products with and without perfume, where materials other than fragrance constituted the possible cause of the reaction. Finally, those identified without a fragrance allergy had never reacted to a perfumed material.
This questionnaire allows the dermatologist to determine which patients have the highest probability of fragrance contact allergy before patch testing. With the proper clinical history, patients then proceed to the patch testing of FM1 and FM2, to define the possible role of fragrance in the dermatitis.
Patch Testing
Patch testing is used by dermatologists to determine if a chemical is causing an individual's allergic inflammatory reaction on the skin. Usually, a sampling of diluted potential allergens is arranged in a grid pattern on an individual's back. Since this test is for a type IV hypersensitivity reaction, or delayed type of hypersensitivity, the skin must be checked two and four days later to assess for reaction, which is contained to the area of application.
Testing with FM1 is a common practice when dermatitis is suspected to be from fragrance. Nardelli et al.3 showed that 9.6% of patients investigated for fragrance contact allergy reacted positively to FM1, and 6% to FM2. Of those with suspected fragrance induced dermatitis, sensitivity for FM1 has been shown to be 27.2%, and 8.7–21.5% for FM2.7 Additional patch testing for FM2 helps to minimize fragrance-induced clinical dermatitis false negatives, with an estimated additional 6% of patients identified.3
Additionally, Larsen et al. report false negatives to be 33%, suggesting neither FM1 or FM2 alone are sufficient screening tools.8 Schnuch noted that 46% of patients react negatively when tested for the individual constituents of FM1 but positively to the mixture.9 This may be due to false positive reactions to the mix, lowered allergen threshold, false negative reactions to individual constituents, or the existence of a compound allergy.6
To increase sensitivity, Hesiterberg et al. recommend using four screening markers: FM1, FM2, M. pereirae (balsam of Peru) and HICC. Further, in addition to the 14 fragrance allergens used in FM1 and FM2 for patch testing, they recommend testing for 12 fragrance constituents, including: butylphenyl methylpropional, Evernia furfuracea, linalool, benzyl salicylate, benzyl alcohol, anise alcohol, benzyl cinnamate, amylcinnamyl alcohol, limonene, alpha-isomethyl ionone, benzyl benzoate and methyl 2-octynoate.1 Recently, additional allergens have been commercialized, including hydroperoxides of linalool, hydroperoxides of limonene and perfume mix (Mx-08).10
Fragrance Concentration
Consideration of fragrance concentration and its impact on dermatitis adds another layer of complexity when managing fragrance-allergic consumers. The International Fragrance Research Association (IFRA) publishes safe guidelines on fragrance use. Based on research, the IFRA Code of Practice includes 186 standards that either restrict or prohibit the use of selected fragrance materials for all types of applications. Producers of fragranced cosmetics and household products are expected to comply with IFRA standards.11
In addition to regulating specific fragrance compounds, IFRA sets acceptable fragrance exposure levels. Allowable concentrations are determined by the quantitative risk assessment of factors such as volume of use, dermal exposure, and structural alerts for dermal sensitization. Broad categories organize products by exposure level, including: Category 1 for lip products, toys and waxes for mechanical hair removal; Category 2 for deodorants, antiperspirants and fragranced bracelets; and Category 3 for aftershave, eye products, facial creams, tampons, baby creams and body paint for children. Exposure levels vary by product, but the concentration level for eugenol, for example, is 0.20% for Categories 1 and 2 and 0.50% for Categories 3 (and 4).11
As IFRA has learned more about fragrances, recommended concentrations for fragrance use continue to decrease. This suggests fragrance concentration is relevant to dermatitis; however the tolerated level is unlikely to be discerned by patch testing alone.
Repeat Open Application Test
IFRA regulations underscore the importance of fragrance concentration, and an understanding of time-dose relationship is important for consumers to integrate into their daily use or abstinence from scented products. Svedman et al. described three-week, repeat open application tests (ROAT) in which individuals were tested with concentrations of 0.5%, 0.05% and 0.005% w/v of eugenol, a weak sensitizer. The highest ROAT concentration (0.5%) was selected based on the current allowable concentration for use in hydroalcoholic products according to the IFRA. These tests involve the once or twice daily application of the product to a convenient anatomic site, such as the elbow pit, for up to 28 days. At the levels mentioned, eugenol did not induce reactions in eugenol patch test positive volunteers.12 Additional use test studies with fragrances are welcomed by the dermatology and dermatotoxicology community.
Dermatologist Recommendations
If a patient's clinical history suggests contact dermatitis from a fragrance, the fragranced product should be discontinued for 8-12 weeks. If this improves the dermatitis, patch testing for common aromatic allergens included in FM1 and FM2 should be attempted to identify clinically relevant fragrances. Dermatologist offices equipped with more complete fragrance batteries permit the identification of additional fragrance allergens. In Europe, if the concentration of 26 known fragrance allergens exceeds 100 ppm in a rinse-off product, or 10 ppm in a leave-on skin products, they must be listed on the label so the consumer has more freedom and awareness when choosing products.13
If an individual tests positive to FM1 or FM2, some dermatologists advise that individual to avoid all FM1 and FM2 fragrance compounds. This is not straightforward for that person, as these ingredients are not always listed on products. Other dermatologists advise patients to eliminate exposure to all fragrances. This is not a simple task, considering the pervasive use of fragrance in products. It may be possible to find a fragrance-free body lotion, but few brands produce entire fragrance-free product lines.
If an individual is motivated to use a specific product after the period of abstinence, a ROAT can be performed to ascertain if there is an acceptable exposure concentration. As noted, this consists of once to twice-daily applications of the product for up to 28 days, typically to the elbow pit. Identification of the offending fragrance and a ROAT to understand appropriate concentration may allow the patient to resume use of the fragranced product in a safe manner.
Much remains to be learned about the clinical relevance of a positive fragrance mix patch test. Banning life-long fragrance use is practiced but often cumbersome for a consumer. With the exception of overt dermatitis from fine fragrances and toilet water, and axillary dermatitis from deodorants and antiperspirants, clinical relevance is often not obvious.
References
MV Heisterberg, T Menné and JD Johansen, Contact allergy to the 26 specific fragrance ingredients to be declared on cosmetic products in accordance with the EU cosmetics directive, Contact Dermatitis 65(5) 266–275 (2011)
MV Heisterberg et al, Deodorants are the leading cause of allergic contact dermatitis to fragrance ingredients, Contact Dermatitis 64(5) 258–264 (2011)
A Nardelli, A Carbonez, J Drieghe and A Goossens, Results of patch testing with fragrance mix 1, fragrance mix 2, and their ingredients, and Myroxylon pereirae and colophonium, over a 21-year period, Contact Dermatitis 68(5) 307–313 (2013)
WG Larsen, Allergic contact dermatitis to the perfume in Mycolog cream, J Am Acad Dermatol 1(2) 131-133 (1979)
PJ Frosch, JD Johansen, IR White and JC Congress, Fragrances: Beneficial and Adverse Effects, Springer, New York, USA (1998)
L Schollhammer, KE Andersen and CG Mortz, The diagnostic value of patch tests with two fragrance mix I preparations for detection of clinically relevant perfume allergy, Contact Dermatitis 66(6) 350–352 (2012)
PJ Frosch et al, Patch testing with a new fragrance mix detects additional patients sensitive to perfumes and missed by the current fragrance mix, Contact Dermatitis 52(4) 207–215 (2005)
W Larsen et al, A study of new fragrance mixtures, Am J Contact Dermatol 9(4) 202–206 (1998)
A Schnuch, J Geier, W Uter and PJ Frosch, Another look at allergies to fragrances: Frequencies of sensitisation to the fragrance mix and its constituents, Exog Dermatol 1(5) 231–237 (2002)
Patch Test Products and Reference Manual 2014, Chemotechnique Diagnostics, www.chemotechnique.se/ckfinder/userfiles/files/Patch%20Test%20Products%20and%20Reference%20Manual%202014%20-%20For%20digital%20distribution(1).pdf (accessed Mar 14, 2014)
IFRA RIFM QRA Information Booklet Version 6.0, International Fragrance Association, www.ifraorg.org (2011) (accessed Oct 15, 2013)
C Svedman et al, Does the new standard for eugenol designed to protect against contact sensitization protect those sensitized from elicitation of the reaction? Dermat Contact Atopic Occup Drug 23(1) 32–38 (2012)
DA Buckley, Fragrance ingredient labelling in products on sale in the UK, Br J Dermatol 157(2) 295–300 (2007)