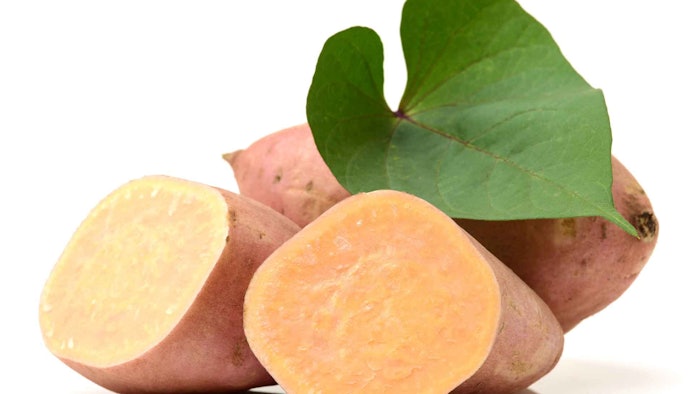 Researchers from the Chinese Academy of Agricultural Sciences and the University of Liège in Belgium published a study in Food & Function digging into the mechanisms through which sweet potato leaf polyphenols can ameliorate UV radiation damage.
See archived: Sweet Potatoes; Uber Tubers Packing an Antioxidant, Antimicrobial Punch
In an animal model, several properties were assessed before and after treatment, including: moisture, hydroxyproline levels, epidermis and dermis thickness, anti-oxidative enzyme activities, malondialdehyde (MDA) content, protein carbonyl content, the expression of inflammatory markers and mitogen-activated protein kinase signaling pathways.
Topical sweet potato leaf polyphenols inhibited the dermal thickening, increased enzyme activities and decreased MDA and protein carbonyls. They also suppressed the UV-induced increase in inflammatory markers, and alleviated phosphorylation levels of stress-signaling proteins. For more information, see the full abstract.
See related: Shadowing Plants; Phytochemicals for Sustainable Sun Protection, A Commentary