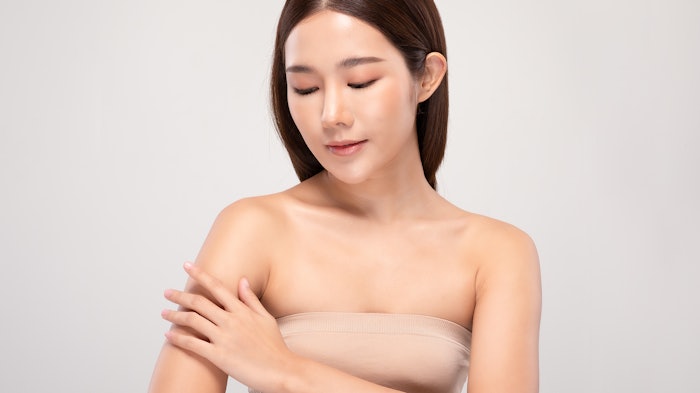 The significance of serpinins in skin was explored in a recent open access article published in Biomedicines. According to the abstract, these entities are peptides that are produced via proteolytic processing. 
In an animal model, the work identified serpinin immunoreactivity in sensory nerves, and showed colocalization with substance P. In addition, the reactivity was present in autonomic nerves, "furnishing structures such as arrector pili muscle and sweat glands."
See archived: IFSCC Winners; Hair Muscle Anti-aging in 4D, Vascularized Skin Model and Odor-inhibiting Fragrance
The authors concluded the evidence shows serpinins are a constituent of sensory innervation in the skin. They also have previously been shown to be highly active biologically, and could therefore be of functional significance in the skin.
More specifically, the authors point to three areas where serpinin might be involved. First, it might promote granulogenesis in sensory nerves since free serpinin is present. Serpinins are also β-adrenoreceptor agonists and may act on this receptor, which is the main mediator of vasodilation via smooth muscle cell relaxation and in turn, may initiate vasodilation in the skin.
See archived: Kao Dually Visualizes Vessels, Capillaries in Deep Skin Tissue
Finally, serpinin exerts neuroprotection potency similar to pituitary adenylate cyclase-activating polypeptide (PACAP) and vasoactive intestinal polypeptide (VIP). According to the authors, these regulate immunity. Also, PACAP is involved in inflammatory pathologies such as psoriasis and it has been shown to impart anti-allergic effects a contact dermatitis model.
The authors therefore believe serpinin might be of functional significance in the skin tissue, which requires further exploration. See the full article for details.
See also: Shiseido Uncovers Elasticity in Capillaries for Anti-aging Approach