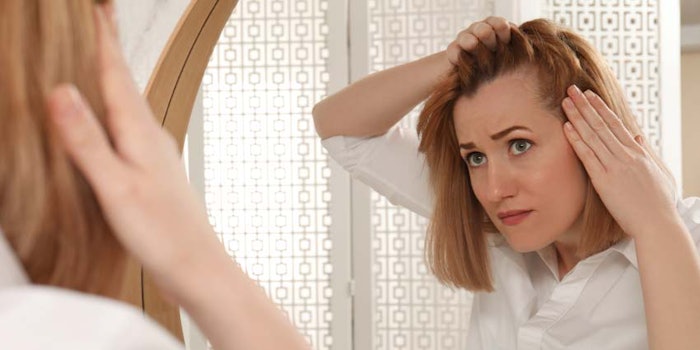 KeepItAnchored, P&G's hair loss brand, has published a series of findings in the International Journal of Cosmetic Science showing how controlling oxidative stress in the scalp can keep hair anchored and reduce hair loss.
The full series of research, titled "Reducing hair loss by reducing scalp oxidative stress," appears in multiple parts, the most recent in the November 2021 issue.
According to the brand, more than 2/3 of adults in the U.S. are concerned with hair loss, yet the majority leave it untreated, believing hair loss to be caused by uncontrollable factors such as age or genetics. This research showed that oxidative stress, i.e., free radicals from sources like UV and pollution, is a major culprit, and that the technology in the brand's hair care systems effectively reduces hair loss by 2.4 k more hair fibers, on average.
See related: Formulating On Trend; Conditioner for Hair Loss
More specifically, within the research series, a clinical trial published in August 2021 evaluated a combination of functional antioxidants and barrier-enhancing cosmetic ingredients to improve scalp condition and enable stronger hair anchorage and longer retention. Male and female subjects with normal scalp conditions and self-perceived hair thinning participated in a 24-week, double-blind, placebo-controlled, randomized clinical study.
Subjects assessed either a regimen of treatment shampoo and leave-on treatment containing functional antioxidant and barrier-enhancing agents, or an identical placebo chassis shampoo control. The functional ingredients were: piroctone olamine, zinc pyrithione, zinc carbonate, niacinamide, panthenol and caffeine. At baseline and after 8, 16 and 24 weeks of product use, measurements were taken, including: hair shedding, total hair count (by phototrichogram), hair samples, TEWL and evaluation of biomarkers of scalp and hair conditions. Subjects also completed self assessments.
See related: Formulating Forum; Head Start
Statistically significant effects were noted for the test treatment regimen versus a placebo control shampoo in terms of reduced hair shedding, increased total hair count, reduced TEWL and improvement in scalp biomarker values. Subjects also noticed these improvements assessed via self-assessment questionnaires.
Ingredients (essence product for women): Alcohol Denat., Water (aqua), Niacinamide, Dehydroxanthan Gum, Fragrance, Piroctone Olamine, Polyacrylamide, C13-14 Isoparaffin, Zinc Carbonate, Zinc Pyrithione, Panthenol, Caffeine, Laureth-7, Sodium Chloride.
Ingredients (shampoo for women): Water (aqua), Sodium Laureth Sulfate, Zinc Carbonate, Glycol Distearate, Cocamidopropyl Betaine, Cocamide MEA, Zinc Pyrithione, Piroctone Olamine, Fragrance, Sodium Xylenesulfonate, Hydrochloric Acid, Guar Hydroxypropyltrimonium Chloride, Sodium Benzoate, Caffeine, Polyquaternium-10, Stearyl Alcohol, Cetyl Alcohol, Niacinamide, Panthenol, Methylchloroisothiazolinone, Methylisothiazolinone.
Ingredients (conditioner for women): Water (aqua), Stearyl Alcohol, Bis-Aminopropyl Dimethicone, Behentrimonium Methosulfate, Cetyl Alcohol, Zinc Pyrithione, Benzyl Alcohol, Phenoxyethanol, Fragrance, Niacinamide, Caffeine, Polysorbate 20, Sodium Chloride, Citric Acid, Panthenol, Methylchloroisothiazolinone, Methylisothiazolinone.
Ingredients (precleanser for women): Water (aqua), Sodium Lauryl Sulfate, Sodium Laureth Sulfate, Cocamidopropyl Betaine, Sodium Chloride, Fragrance, Menthol, Citric Acid, Sodium Benzoate, Hydroxypropyl Methylcellulose, Tetrasodium EDTA, Caffeine, Zingiber Officinale (Ginger) Root Extract, Niacinamide, Panthenol, Methylchloroisothiazolinone, Methylisothiazolinone.