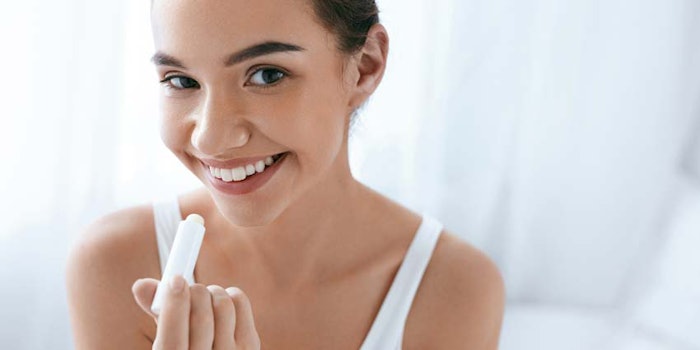 Correlations between lip balm occlusivity and lip texture improvement were verified in work published by Kao Corp. earlier this year. The results were published in the International Journal of Cosmetic Science.
According to the article abstract, 20 female Japanese subjects, ages 20-39, with normal skin were divided into two groups such that each had similar levels of stratum corneum capacitance and trans-epidermal water loss. The subjects utilized lip balm samples comprising oil and wax and having low or high occlusivity for four continuous weeks. The degrees of lip roughness and wrinkles were scored, the hollow index was assessed using ANTERA 3D images, and values of capacitance and TEWL were measured. 
See related: Kao Research Takes Shape Around Lip Morphology vs. Age
The samples having high occlusivity significantly improved the lip appearance roughness score, wrinkle score, the hollow index and capacitance of the SC. According to the authors, these results demonstrate for the first time that a highly occlusive formulation is effective in improving the roughness of lips. Furthermore, this effect was due to the difference in the occlusive property and not by a specific care agent.
For more information, see the company website.