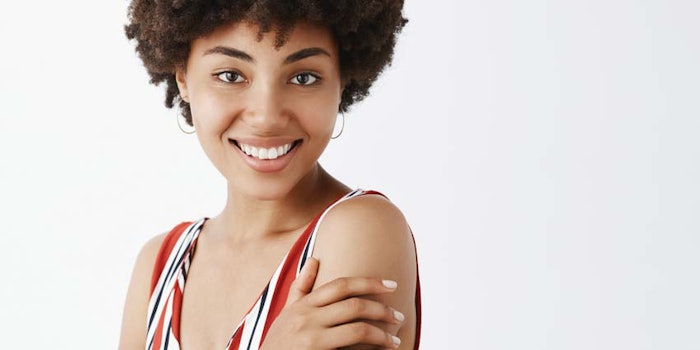 According to a report by Datamintelligence, the dermocosmetic market is expected to increase at a CAGR of 4.5% from 2020 to 2027. No doubt the surge in antiviral skin cleansing and sanitizing could will play a role in this growth.
This brief literature review presents recent work relevant to dermocosmetics and skin care. From ingredient delivery and accelerated wound repair, to protecting and rebuilding skin, following are select recent publications. 
Fibrillin-rich Microfibrils as a Function of Ethnicity
Langton, A.K., Hann, M, ... Watson, E.B., et al.; J Anatomy; doi: https://doi.org/10.1111/joa.13217
Work published in the Journal of Anatomy examines the structure of fibrillin-rich microfibrils (FRM) extracted from skin of different ethnicities. FRMs are important components in the elastin network. According to this paper, while their deposition in the papillary dermis is known to vary across ethnicities, researchers sought to determine if ethnicity influenced FRM structure, which the authors describe as "beads on a string."
Samples were taken from the papillary dermis and deeper reticular dermis. Results revealed no differences between European and African participants in the structure of FRMs taken from the reticular dermis. In the outer papillary dermis, however, the "inter-bead periodicity" was reportedly larger for European than for African skin.
Could this point to differences in elasticity across ethnicities? Additional studies are warranted.
Ethosome Delivery and Antioxidant Activity of CoQ10
M. Sguizzato, P. Mariani, ...E. Esposito, et al.; Antioxidants; doi:10.3390/antiox9060485
A recent study published in Antioxidants describes the production, characterization, delivery into skin and antioxidant capabilities of phosphatidylcholine-based ethosomes loaded with coenzyme Q10 (CoQ10). Vesicles measured around 270 nm, and CoQ10 entrapment capacity reached nearly 100%.
In 3D reconstituted skin, transmission electron microscopy detected the uptake of ethosomes in human skin fibroblasts, as well as the passage of the vesicles through the reconstituted epidermis. Immunofluorescence of the fibroblasts and reconstituted epidermis treated with ethosomes in the presence of H2O2 (as oxidative stress challenger) evaluated 4-hydroxynonenal protein adducts as a biomarker for oxidative damage. Notably, pretreatment with CoQ10-loaded ethosomes exerted a consistent protective effect against oxidative stress in both models.
Truncated Growth Differentiation Factor 11 (GDF11) Variant Speeds Diabetic Wound Healing
Q. Li, L. Jiao, ... Y. Zhang, et al.; Biochemical and Biophysical Research Communications; https://doi.org/10.1016/j.bbrc.2020.05.036
The present work compared the ability of growth differentiation factor 11 (GDF11) and a variation thereof truncated to improve stability to heal wounds in animal models having diabetic skin. Both the truncated and natural GDF11 effectively accelerated wound healing in cases of diabetes 1 and 2 through various mechanisms, with a potency comparable to other growth factors and higher than GDF8. Overall, results indicated the GDF11s promoted wound healing in skin partly by stimulating dermal fibrosis via the YAP—Smad2/3—CTGF pathway, suggesting a potential agent for treating diabetic wounds.
Fusion Protein and Penetration Peptide to Improve Skin Conditions and Alopecia
U.S Pat App 20200165312; Assignee: LG Household & Health Care, Ltd.; Publication date: May 28, 2020
According to this patent, various actives exhibiting skin wrinkle reduction effects by promoting collagen synthesis, endothelial cell growth or hyaluronic acid production cannot be absorbed through the skin. As such, extensive studies have been conducted to develop methods of promoting the absorption of these ingredients. The present inventors have found that a fusion protein in which a platelet-derived growth factor subunit a (PDGFa) is bound to the skin penetration-enhancing peptide may be used as a carrier for the transdermal delivery of actives and remain in the skin for a long time. They also have identified that the fusion protein/skin penetration-enhancing peptide has excellent skin retention and penetrability. Proposed applications include the treatment of skin conditions as well as alopecia.
Galectin-7 Protects Atopic Skin Barrier
T. Umayahara, T. Shimauchi, ... Y. Tokura, et al.; Clinical & Experimental Allergy; https://doi.org/10.1111/cea.13672
According to this article abstract, patients afflicted by atopic dermatitis present with high levels of Galectin-7 (Gal-7), a soluble unglycosylated lectin, in their stratum corneum although its biological significance has been unclear. Here, a positive correlation was identified between serum Gal‐7 levels and transepidermal water loss in patients with AD. Furthermore, in vitro data showed that IL‐4/IL‐13 facilitated the extracellular release of endogenous Gal‐7.
The results suggest that endogenous Gal‐7 serves as a protector from IL-4/IL-13-induced disruption of cell‐to‐cell adhesion and/or cell‐to‐extracellular matrix adhesion. Overall, the authors propose this lectin could serve as an alarmin in skin that reflects IL-4/IL-3-induced skin barrier impairment. 
Brazilian Açai for Wound Repair, Inflammation
J. Xiong, F.V. Matta, ... D. Esposito, et al.; Food and Function; https://doi.org/10.1039/C9FO03109J
In this study, 20 natural açai samples from different Amazon regions, before and after processing, were investigated. Açai pulp was rich in phenolics and proanthocyanins but contained only trace anthocyanins. Processed samples, on the other hand, lost ~83% proanthocyanidins but their anthocyanin content was greatly enriched. Non-processed açai pulp extracts protected against early inflammation, correlating with thir proanthocyanidin content, whereas wound repair was mainly attributed to increased anthocyanin content, along with other bioactives, in the processed samples. Results suggested the processing technology needs improvements in order to maintain the biological properties of açai fruit.
Biomimetic and Estrogenic Fibers to Repair Skin
S. Ahn, C.O. Chantre, H.A.M. Adrona, G.M. Gonzalez; P.H. Campbell; and K.K. Parker; Biomaterials; https://doi.org/10.1016/j.biomaterials.2020.120149
Previous work has shown that estrogen may potentiate skin healing but its use is associated with negative effects. As such, soy phytoestrogens have been explored as a safer alternative. Here, the authors describe biomimetic and estrogenic nanofiber wound dressings built from soy protein isolate and hyaluronic acid using immersion rotary jet spinning. These scaffolds were shown to successfully replicate dermal architecture and provide an estrogen receptor β-triggering phytoestrogen (genistein). Results indicated these fibrous scaffolds facilitated skin repair.