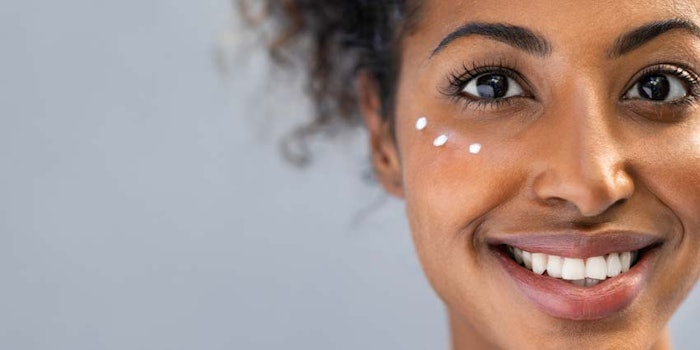 In late May 2020, Market Insight Reports projected the skin lightening market will expand at a CAGR of 6.24% between 2020 and 2027.
This brief survey of related skin-lightening research and innovation could help inspire ideas to make this happen.
Gypsum Extract Imparts Skin-whitening Effects
E.-Y. Kam, E.-J. Kang, ... J.H. Choi, et al; J Korean Med Ophthalmol Otolaryngol Dermatol; doi: https://doi.org/10.6114/jkood.2020.33.2.070
This study investigated the effects of gypsum extract on skin whitening and found it inhibited melanin synthesis and the activity of tyrosinase, as well as enhanced SOD-like activity, compared with untreated controls. 
Fermented Tea-derived Quercetin Skin Whitening
AmorePacific Corp.; U.S. Pat Application 20200140474; Publication date: May 7, 2020
This invention relates to a whitening composition containing a quercetin-based compound isolated from post-fermented tea. Variants may include an isomer thereof, a pharmaceutically acceptable salt thereof, a hydrate thereof or a solvate thereof. Said composition can be utilized in fields associated with skin whitening and skin care, and responds to the market need for safer, more effective and stabler skin whitening ingredients.
Phenolic-rich Pomegranate Peel to Address Hyperpigmentation
M. Kanlayavattanakul, W. Chongnativisit, P. Chaikul and N. Lourith; Mae Fah Luang University, Chiang Rai, Thailand; Planta Med; doi: 10.1055/a-1170-7785
As described by this article abstract, a method was developed to obtain phenolic-rich pomegranate peel extract, whose major chemical constituents were identified as sinapic acid as well as gallic and ellagic acids, and four additional phenolics. The extract demonstrated strong antioxidant activity and tyrosinase inhibition in vitro through several mechanisms. The extract was developed into a stable serum and mask, and these products were shown to be non-irritating in 30 Thai volunteers. Furthermore, a split-face, randomized, double-blind, placebo-controlled test showed its skin lightening efficacy over the placebo after 28 consecutive daily treatments (p < 0.005).
Thymus Quinquecostatus-derived Galuteolin Inhibits Tyrosinase, Melanin Synthesis
M.-H. Kim, B. Kwon, ... J. Kim, et al.; Natural Product Research; doi: 10.1080/14786419.2020.1768091
A functional ingredient in Thymus quinquecostatus flower, or five-ribbed thyme flower, was identified: galuteolin. Here, the authors evaluated galuteolin and found it to effectively inhibit melanin synthesis in B16/F10 melanoma cells, in part by suppressing tyrosinase. According to the article abstract, the study suggests galuteolin can be used as a cosmetic ingredient for skin whitening.
Rose Petal, Pomegranate, Red Orange and Açai Berry Skin-lightening Benefits
 T. Wu, C. Zheng, Y. He, M. Guo and X. Qi; Current Developments in Nutrition; https://doi.org/10.1093/cdn/nzaa052_061
According to this article abstract, polyphenol compounds have found to demonstrate melanin-inhibiting activities. As such, four polyphenol-rich plant extracts were evaluated for their effects on melanogenesis: rose petal (Rosa centifolia), pomegranate (Punica granatum L.), red orange (Citrus sinensis (L.) Osbeck), and açai berry (Euterpe oleracea Mart.). Additional evaluations considered their effects on cell viability.
Results indicated 1.56 μg/mL rose petal extract, 25 μg/mL red orange fruit extract and 25 μg/mL açai berry extracts inhibited melanogenesis by 33.29%, 29.13% and 24.09%, respectively. These effects were greater than that of 50 μg/mL arbutin (10.27%, p < 0.05) but not signifcantly different from 50 μg/mL kojic acid (29.96%). Pomegranate juice powder exhibited a similar effect to arbutin but weaker than kojic acid (p < 0.05).
Growth Differentiation Factor Induces Skin Pigmentation
Y. Kim, B. Kang, J.C. Kim, T.J. Park and H.Y. Kang; J Invest Derm pre-proof; https://doi.org/10.1016/j.jid.2020.04.016
According to this article abstract, senescent fibroblasts may have a role in age-related skin pigmentation. Researchers found that after UV exposure, the expression levels of growth differentiation factor-15 (GDF-15) are increased in senescent fibroblasts and photoaged hyperpigmented skin. Furthermore, GDF-15 derived from senescent fibroblasts stimulated melanin synthesis, suggesting its role in skin hyperpigmentation.