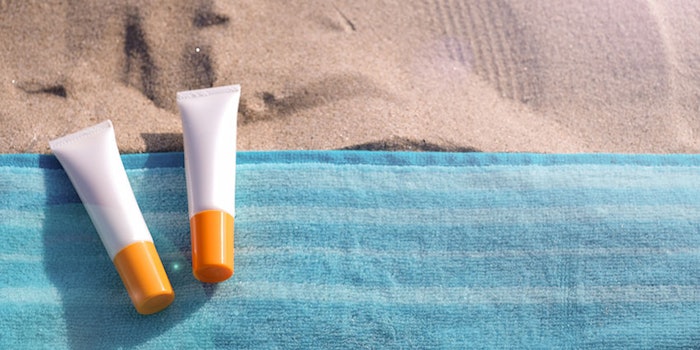 The environmental safety of sunscreens has recently been put under the spotlight following research and regulatory reports citing certain ingredients—namely, oxybenzone and octinoxate—as potentially harmful to coral reefs. Now, new findings have been published examining if and how materials released into seawater via sunscreens affect marine environments.
The study, published in the American Chemical Society's Environmental Science & Technology journal, tested a commercial sunscreen containing titanium dioxide in seawater to determine the release rate of dissolved trace metals—Al, Cd, Cu, Co, Mn, Mo, Ni, Pb and Ti—and inorganic nutrients—SiO2, P-PO43– and N-NO3–. The role of UV radiation in the activity of said compounds was also examined.
Researchers found that aluminum, silica and phosphorus had the highest release rates. From this data, a model was developed to establish the release pattern and effects of these compounds entering coastal waters. The authors predicted that on a typical summer day, beachgoers have the potential to increase the concentration of aluminum and titanium in coastal waters by 4% and almost 20%, respectively.
See related Letter to the Editor regarding the significance of this rise.
Authors note that more research is needed in order to "determine how these metals and nutrients, which are normally present at very low amounts in seawater, could be affecting marine ecosystems."
For the full study and more information, visit www.acs.org and www.pubs.acs.org.