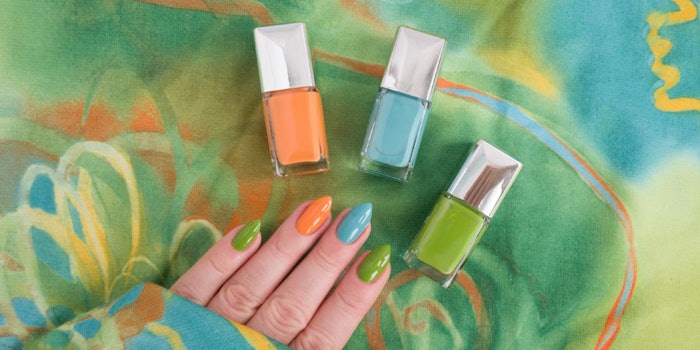 Revlon recently applied for a patent disclosing the use of polyhedral oligomeric silsesquioxanes to improve nail polish durability without impacting its removal.
According to the patent application, conventional nail coatings, i.e., lacquers, varnish or enamels, comprise various solid components dissolved or suspended in non-reactive solvents. Upon application and drying, the solids deposit on the nail surface as a clear, translucent or colored film; preferably one that imparts a high degree of gloss.
Typically, such polishes can be easily scratched but they also are easily dissolved with a solvent, enabling the wearer to conveniently remove them. Accordingly, there is a market need for nail coatings that are durable and have good gloss but are easily removed using a solvent. The present invention addresses this need.
The Literature
Silsesquioxanes and use in nail coatings thereof
WIPO Patent Application WO/2019/126781
Publication date: June 27, 2019
Assignee: Revlon Consumer Products Corp.
As described herein, nail coatings typically comprise three layers that differ in composition and are applied sequentially: a base layer to enhance adhesion between the nail and other layers; a color layer; and a topcoat that improves durability. It would be useful, however, if the number of layers could be reduced without compromising the adhesion and durability of the nail coating, to shorten the application time.
In relation, polyhedral oligomeric silsesquioxanes (POSS) and formulations for nail coating are disclosed in the present patent. It has been found that by including a POSS in the nail coating topcoat formulation, the gloss and hardness of the cured nail coating are improved reportedly without compromising rem,ovability.
Furthermore, if included in the color layer formulation, the POSS provides improved adhesion such that a base layer is not needed. Incorporating a fatty alcohol methacrylate in the topcoat formulation also improves gloss and hardness. Lastly, polyurethane copolymers can provide the cured nail coating with good solvent removability and without compromising adhesion to the nail, gloss or hardness.
More specifically, these inventors have found that increasing the ratio of bis-HEMA poly(caprolactone/neopentyl glycol)/l,4-butanediol/IPDI copolymer to bis-HEMA poly(caprolactone/neopentyl glycol)/IPDI copolymer can decrease the solvent removal time without compromising gouge resistance and gloss.
Patent application accessed on July 9, 2019.