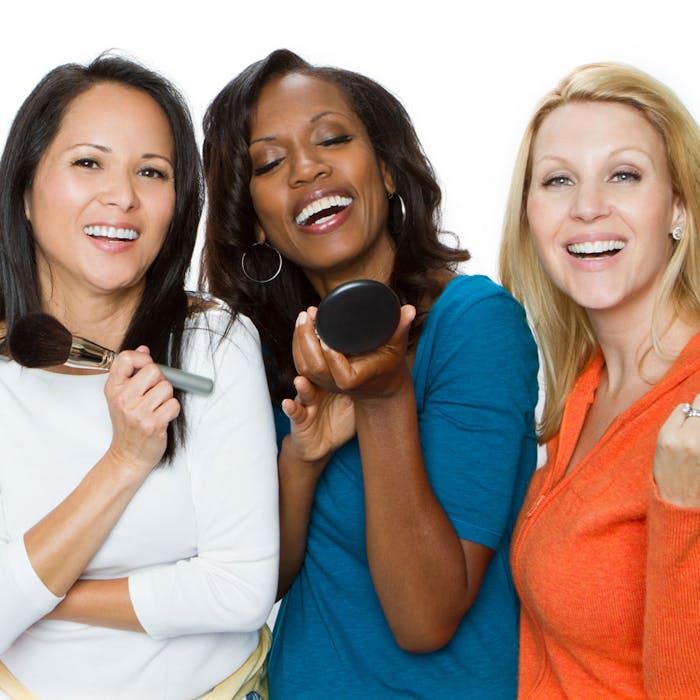 According to LVMH inventors, skin care and makeup already exist to mask skin imperfections. These products often use silicone elastomers or fillers with soft focus or blurring effects, which work well but generally impart a matte finish.
Also, such foundations and powders typically create offerings in a wide range of shades to match different complexions. Recent market introductions include free powders based on silica, or compact powders based on synthetic mica, silicone filler and talc. While these solutions provide an invisible finish and illuminating effects, a more universal solution to skin tone would be preferred.
As such, there is still a need to meet the needs of consumers having different complexions and who do not use powders; for example, individuals having dry, coarse skin or who prefer a fluid or moisturizing formulation. The present inventors therefore sought to develop a cosmetic that excludes galenic powder and provides global imperfection correction, transparency and an illuminating effect—all while being suitable for any skin tone.
Cosmetics with universal optical correction and illumination
Patent application: WO/2018/122150 and EP2017/084312 
Publication date: July 5, 2018 
Assignee: LVMH Recherche
Disclosed herein is a cosmetic and/or makeup composition including an aqueous phase and at least one compound to impart optical correction and illumination in all skin tones. Optical correction is specifically achieved by combining: a) at least one blurring filler, b) at least one composite pigment and c) at least one reflective particle. According to the inventors, no prior art cosmetic composition is known to combine all these benefits.
The blurring filler is preferably a non-composite filler, distinct from the composite pigment described. Said filler may be chosen from: cellulose powders and beads; microcrystalline cellulose powders; silica and silicate powders or amorphous silica microspheres and microbeads; polymethyl methacrylate (PMMA) powders; boron nitride powders; cross-linked elastomeric organopolysiloxane powders, coated or not with silicone resin; hydrophobic silica airgel powders; nylon powders; starch powders; and powders of vegetable origin, such as rice, cotton and silk, and their mixtures.
Composite pigment refers to a pigment comprising a substrate and inorganic and/or organic pigment(s) which are embedded in said substrate. Specific examples are provided in the patent application.
Reflective particles describe multilayer structures comprising a substrate coated with inorganic and/or organic pigments, wherein the size, structure and physical and chemical nature of the layers and their surface state reflect incident light and create highlight points on the skin. Said particles may have platelet or globular forms; here, platelets are preferred.
Patent application accessed on July 9, 2018.