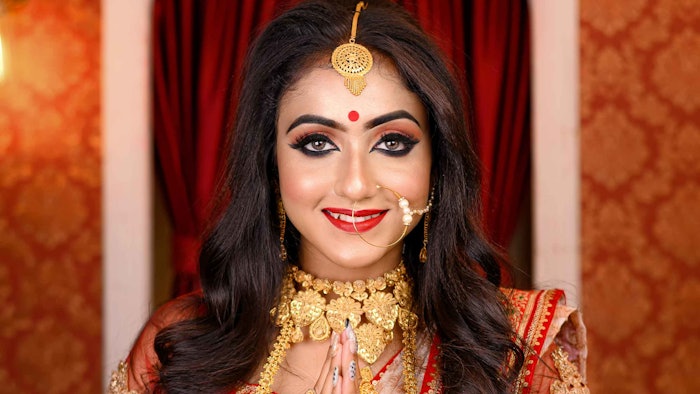 Sudip Biswas
Our weekly social media report, Consumer Pulse, explores consumer searches based on Google Trends, Exploding Topics and TikTok that are growing in interest and relate to cosmetics. The latest topics include: Jajis Innovation Unisex beauty salon; Glitz and Glam; zombie, cat and vampire makeup; Loyé Cosmetics; hair peptide serum; gray lipstick; and mixie haircut.
See related: Trending; Mehron Effects Makeup, Tarte Cosmetics, TXA Serum, Lash Shampoo and More
Jajis Innovation Unisex Beauty Salon Paravur
According to Google Trends, searches on the phrase, "Jajis Innovation Unisex Beauty Salon and Bridal Makeup Studio Paravur," are up 3,050%, which likely relates to the salon's new outlet opening about a month ago in Paravur, Kollom, India. In relation, Director Jaji Sunil appeared more recently in an Instagram video switching between two drastically different makeup looks — one softer and more feminine, the other darker and more dramatic — as a tribute to beauty and strength. According to the post, Sunil "gracefully embodies the divine aura of Goddess Durga Devi in a mesmerizing dual transformation. A tribute to Mahisasura Mardini's eternal strength and beauty." The post has more than 103,000 likes.
Glitz and Glam — 'Wheel of Fortune' Makeup
Also per Google Trends, searches on "Glitz and Glam makeup brushes" and "Glitz and Glam" are up 1,800% and 1,700%, respectively. Two recent media posts could have stirred interest in this terms. In the first, the consumer magazine Allure ran a story four weeks ago naming the Glitz and Glam makeup set among the "15 Best Sephora Gifts of 2023." The set includes a full size Glossier Lash Slick Mascara, mini Ilia liquid-to-powder eye shadow and brown spice Huda Beauty lip liner. With the holidays around the corner, it's likely shoppers are on the hunt for gifts like these.
In addition, on Oct. 9, 2023, several sources reported on the collaboration between Laura Geller Beauty and American gameshow host Vanna White, of the "Wheel of Fortune," to launch a limited edition makeup collection inspired by the long-running television show. News stories and social media posts claimed White had brought viewers "glitz and glam" for some 40 years, and now she and the brand would bring it to consumers' vanities.
The collection includes six new products: "A Million Bucks" Spackle Skin Perfecting Primer, Face the Wheel Blush Palette, Prizewinning Eyes Shadow Palette, Modern Classic Cream Lipstick in Big Money Red, Kajal Longwear Liner in Glitz and Glam and a dual-ended blush and bronzer precision brush — which were reportedly designed to de-stigmatize aging, reinforced by 61-year-old White's embrace of lines and wrinkles.
Ingredients (Spackle Skin Perfecting Primer): Aqua/Water/Eau, Cyclopentasiloxane, Dimethicone, Glycerin, Propylene Glycol, Caprylic/Capric Triglyceride, Dimethiconol, PEG-40 Hydrogenated Castor Oil, PEG/PPG-18/18 Dimethicone, Carbomer, Sodium Phytate, Glyceryl Acrylate/Acrylic Acid Copolymer, Butylene Glycol, Calendula Officinalis Flower Extract, Chamomilla Recutita (Matricaria) Flower Extract, Echinacea Purpurea Extract, Hamamelis Virginiana (Witch Hazel) Leaf Extract, Crithmum Maritimum Extract, Squalane, Oryza Sativa (Rice) Bran Extract, Aloe Barbadensis Leaf Extract, Camellia Sinensis Leaf Extract, Centella Asiatica Extract, Ginkgo Biloba Leaf Extract, Helianthus Annuus (Sunflower) Extract, Rosmarinus Officinalis (Rosemary) Leaf Extract, Tocopherol, Polysorbate 20, Sodium Hydroxide, Sodium Benzoate, Caprylyl Glycol, Hexylene Glycol, Phenoxyethanol, Mica, Titanium Dioxide (CI 77891).
Zombie, Cat and Vampire Makeup
Unsurprisingly, with Halloween less than one week away, searches for makeup looks including zombie (+130%), cat (+120%) and vampire (110%) are on the upswing, according to Google Trends.
See related: 8 Trends in Beauty: Vampire Cosmetics, Ceramides, Rosemary and More
Loyé Cosmetics
Searches on Loyé Cosmetics, per Google Trends, are up 110% probably due to a recent video TikTok video posted about five days ago demonstrating how to apply the brand's eye shadow. The novelty of it was a dynamic graphic overlay on the video mapping out, in the eye area, where to apply which shades. The simple graphic moves with the demonstrator; it isn't clear whether it was AI-generated or an animation on the video itself.
Exploding: Hair Peptide Serum
This week's Exploding Topic reports that "hair peptide serum" has surged in interest. The source describes it as a product containing amino acids to nourish and repair hair, and improve its strength and elasticity in part by stimulating collagen. TikTok videos about hair peptides have surpassed 1.1 billion views, falling under the larger #hairtok meta trend, which has 88+ billion views.
#Graylipstick and #Mixiehaircut
Finally, Spate's hashtag tracker highlighted two top trending themes this week: #graylipstick is up 26,000% week over week with 461.9 K views. Coming in at a close second is #mixiehaircut, up 25,000% week over week.
See related: Trending; Hair Food, Safety, Garba Makeup, Sea Salt Spray and More