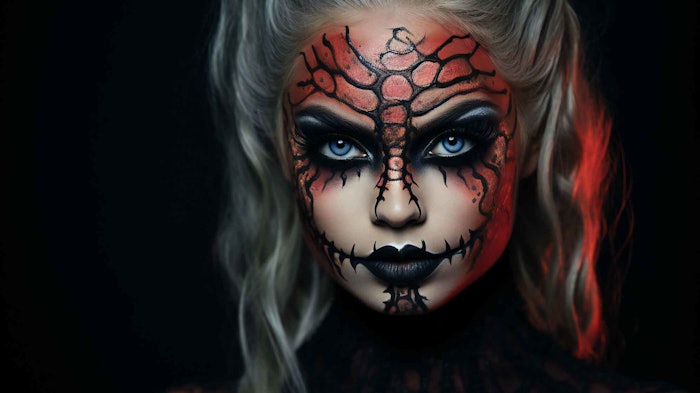 Snapshooter
Our latest Consumer Pulse report, featured on social media, explores consumer searches based on Google Trends, Exploding Topics and TikTok that are rising in interest and that relate to cosmetics. This time, topics include: Shannon Sharpe NFL, Garba dance, Mehron makeup, Tarte Cosmetics, tranexamic acid (TXA) serum, lash shampoo, nude lip liner and scalp aging.
See related: 8 Trends in Beauty; Vampire Cosmetics, Ceramides, Rosemary and More
Shannon Sharpe NFL (Significant Rise in Interest)
Searches on "Shannon Sharpe NFL" are up significantly, according to Google Trends, which at first seems unrelated to cosmetics. He was a football player (American) for the Denver Broncos and is now a sports commentator on ESPN's show First Take.
However, viewers blew up social media when he appeared on the show with heavy makeup, proclaiming he looked "casket-ready" and "embalmed." He responded stating his appearance was less important than his views. Human nature just seems to gravitate toward negative news; ironically, this relates to another trending topic: Mehron makeup (see below).
Garba Dance (+150%)
"Garba dance" made the top searches again this week as it relates to the Navrati Hindu festival happening now (Oct. 15-24). The dance is a celebration of female fertility and once again, several online tutorials report ways to help makeup last through sweating and movement. One example describes layering primer, foundation, concealer and a matte compact powder.
Mehron Makeup (+90%)
Searches for "Mehron" makeup are on the rise, no doubt thanks to this stage and screen pro makeup brand's connection to special effects, cosplay and especially Halloween. The brand is currently featuring a water-based squirt blood product that dries on skin and cracks like real blood, as well as a scar wax makeup putty. The company was called out in a recent CNN story highlighting Halloween makeup and named for having the best prosthetic adhesive for special effects.
See related: Trending; Halloween Makeup, Digital Dust Highlighter, Bronzer, Starter Coils and More
Tarte Cosmetics (+70%)
Searches on "Tarte Cosmetics" made the top of our list likely due to a Cyber Monday preview sale going on. However, the band did launch, about a month ago, its Maracuja Juicy Shift lip tint range in 9 pastels that change color tone with the wearer's pH. The brand offers a virtual try-on for the products.
Exploding: TXA Serum
According to the source Exploding Topics, TXA helps with hyperpigmentation, redness and irritation; we've seen this ingredient top consumer searches more than once. Per the source, rising interest is attributed to the brand Minimalist, as searches on its TXA serum rose 367% over the past two years. Furthermore, "TXA skincare" in general is up 2,150% over the past five years.
Exploding: Lash Shampoo
"Lash shampoo," designed for eyelash extensions, is another expanding area. Exploding Topics describes this as a foaming solution applied to the lashes to carefully remove dirt, oil and residue without damaging them. These products typically contain non-irritating ingredients such as tea tree oil, glycerin and chamomile, per the source. 
This is part of a larger DIY lashes metatrend; in fact, DIY lashes videos on TikTok surpassed 2.2 billion views. Also, "DIY lashes" searches increased 148% in the past five years. Brands Lashify and Kiss Falscara were two brands called out in this space.
#Nudelipliner and #Scalpaging
Finally, per Spate's hashtag tracker, nude lip liner (#nudelipliner) is up a whopping 12.4+ million percent, week over week. A second honorary mention is scalp aging (#scalpaging), with an increase of more than 42,000%.