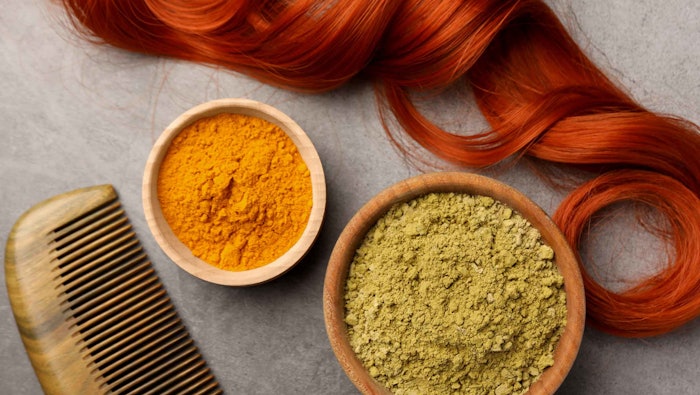 New Africa
Our latest Consumer Pulse report, featured on social media, explores popular searches on Google Trends, Exploding Topics and TikTok that relate to cosmetics. This time, we highlight an ayurvedic brand, hair food, Team X scandal, cosmetic safety, Garba makeup, sea salt spray, cherry mocha nails and tear drop nails.
Aparna Aunty Beauty Products (+1,700%)
Searches on the ayurvedic brand Aparna Beauty could relate to recent Instagram and Twitter posts about its products, as it did not appear in any apparent news reports. The brand site currently touts its traditional formulas, which are claimed incorrectly to be chemical-free. The brand's top seller, Hair Masala, is described as food for hair and scalp, and is designed to clean, nourish and boost hair growth. As an aside, masala is a mixture of spices ground into a paste that is used Indian cooking — making nourish a choice term.
See related: Trending; Halloween Makeup, Digital Dust Highlighter, Bronzer, Starter Coils and More
Team X Kosmetyki (+500%)
Team X Kosmetyki appears to be making headlines due to a scandal among Polish YouTubers. Cast members from the Team X reality show who are also influencers are alleged to have interacted inappropriately with minors. The Ingrid Cosmetics brand, which had previously featured some of the cast as ambassadors, along with the Rossman drugstore chain have reportedly distanced themselves from the show. Scandals make headlines; no doubt that's why it made the top ten Google Trend searches.
Cosmetic Product Notification (+450%) 
Searches on Cosmetic Product Notification we up on Google Trends, too. This likely relates to the EU's Cosmetic Product Notification Portal, which was recently mentioned in an interview by Financier. Here, partners from the Kennedys Law firm discussed cosmetic safety and regulation and risk management.
Garba Makeup Look (+250%)
With the Hindu festival of Garba around the corner, Google Trends searches for Garba makeup look also was a top search. Several tutorials are featured online and highlight creating "lasting" looks, to withstand dancing.
Exploding: Sea Salt Spray
According to Exploding Topics (ET), sea salt spray is making waves in beauty. Not only does it add texture, volume and a beachy wind-swept look to hair, but views on #beachwaves have surpassed 796 million on TikTok. The brand OGX was named by the source as having increased in searches by > 100% over the past 2 years. Sea salt spray falls under the "beachy waves" meta trend, per ET, which is encouraged by celebrities J. Lo and Zendaya sporting the look.
Cherry Mocha and Tear Drop Nails
Finally, per Spate's hashtag tracker dashboard, the latest buzz is all about nails. The hashtag cherry mocha nails (#cherrymochanails) is up a whopping 118% million, week over week. In second place, the tag tear drop nails (#teardropnails) rose by a "mere" 11% million.
See related: Packaging Trend Tracker; New Launches and Manufacturing