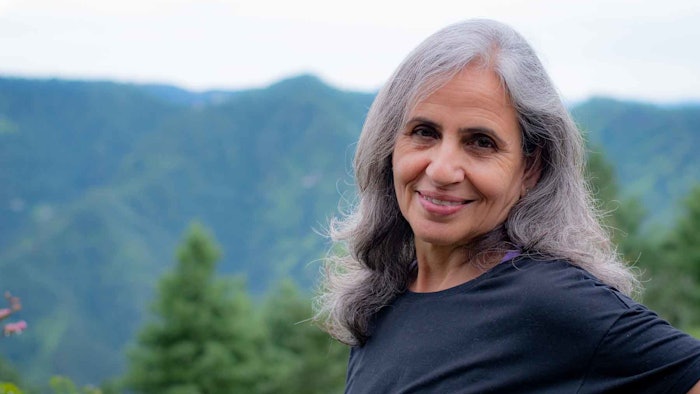 The top trending Google searches in skin and hair this week include "Martha Stewart skin care" (+ 600%) and "Avimee Herbal" (breakout in searches - tremendous increase per Google Trends). Cosmetics & Toiletries (C&T) dug a little deeper for formulating and product development inspiration.
See related: Trending; Redness and Rosacea Line 'Kalme Skin Care'
'Martha Stewart Skin Care'
Several news outlets are highlighting Martha Stewart's recent unfiltered Instagram post about her "glowing skin." They report that at 81, Stewart maintains a healthy diet, does pilates, has had a "lifetime of great derms" and gets Mario Badescu facials for a youthful complexion. She didn't specify which products or facials but regardless, we explored the Mario Badescu website for ideas. There, we found "The Favorites" bundle including Drying Lotion and Brightening Eye Serum; note that "The Favorites" are not necessarily Stewart's favorites.
The surface blemish solution is said to dry blemishes over night. It includes salicylic acid to reduce redness and blemishes; sulfur to unclog pores; and zinc oxide to absorb oil. The eye serum is said to be a lightweight texture. It incorporates caffeine to reduce eye are puffiness; squalane as a hydrator with nourishing properties; niacinamide as an emollient to retain moisture at the skin surface; and hyaluronic acid to bind to water and smooth the look of fine lines.
See archived: Breaking Down Eye Area Damage; The Need for Novel Delivery
Ingredients: Drying Lotion: Isopropyl Alcohol, Aqua (Water/Eau), Calamine, Camphor, Sulfur, Zinc Oxide, Talc, Glycerin, Salicylic Acid, CI 77891 (Titanium Dioxide). 
Ingredients: Brightening Eye Serum: Aqua (Water/Eau), Glycerin, Methylheptyl Isostearate, Polyglyceryl-2 Diisostearate, Squalane, Propanediol, Titanium Dioxide, Mica, Cetearyl Alcohol, Niacinamide, Cetearyl Olivate, Hydroxyethyl Acrylate/Sodium Acryloyldimethyl Taurate Copolymer, Water, Silica, Phenoxyethanol, Butylene Glycol, Sorbitan Olivate, Chlorphenesin, Caprylyl Glycol, Sodium Sulfite, Caffeine, Maltodextrin, Arnica Montana Flower Extract, Centella Asiatica Extract, Carbomer, Polyacrylate-13, Polysorbate 20, Tin Oxide, Polyisobutene, Sodium Hyaluronate, Xanthan Gum, Hydroxyethylcellulose, Isohexadecane, Sorbitan Isostearate, Polysorbate 60, Palmitoyl Pentapeptide-4, CI 77491 (Iron Oxides). (set retails for $36.90 on sale)
'Avimee Herbal'
Business Insider India ran a story five days ago about the startup's 86-year-old founder Radha Krishna Choudhary, who presented his products on Sharktank India. The ayurvedic hair care products are designed to fight dandruff, reduce hair fall, reverse premature hair graying and improve hair texture.
Some of the best sellers include Keshpallav Hair Oil to reduce hair fall, which is made with 150 herbs such as coconut, black sesame, olive, castor and kalonji. The Hair Tone PV1 Scalp Spray with DHT blocker also is herbal based and reportedly reduces hair fall and induces growth.
See archived: Total Wellness Through Tradition; Ayurveda in Cosmetics, Part II
Finally, Shakintala Hair Cleanser is described as "better than shampoo." The cleanser contains milk and curd, reportedly does not strip natural oils, controls dandruff and keeps hair silky. The product incorporates the ingredient Seascalp (INCI: Water (Aqua) (and) Pseudoalteromonas Ferment Extract (and) Sodium Salicylate), which appears to be from Lipotec S.A.U. It is said to help minimize the accumulation of sebaceous lipids and strengthen the skin barrier function.
Ingredients: Keshpallav Hair Oil: Sunflower Seed Oil, Pumpkin Seed Oil, Cold Pressed Coconut Oil, Black Sesame Seed Oil, Flax Seed Oil, Amla Oil, Bhringraj Oil, Brahmi Oil, Hibiscus Oil, Curry Leaf Oil, Saw Palmetto Oil, Camellia Seed Oil, Pecan Nut Oil, Soybean Oil, Macadamia Seed Oil, Marula Oil, Walnut Oil, Mustard Seed Oil, Castor Oil, Arnica Oil, Almond Oil, Apricot Kernel Oil, Cucumber Oil, Pomegranate Seed oil, Shea Oil, Malkangni Oil, Karanja Oil, Wheat Grass Oil, Bergamot Oil, Cedarwood Oil, Stinging Nettle Oil, Bottle Gourd Oil, Borage Seed Oil, Bakuchi Oil, Bamboo Oil, Wheat Germ Oil, Halim Oil, Plum Kernel oil, Hemp Seed Oil, Avocado Oil, Carrot Oil, Grapeseed Oil, Hazel Nut Oil, Passion Fruit Oil, Clary Sage Oil, Poppy Seed Oil, Tea Tree Oil, Birch Seed Oil, Argon Oil, Clove Oil, Rosemary Oil, Jojoba Oil, Tamanu Oil, Lemongrass Oil, Lavender Oil, Eucalyptus Oil, Helichrysum Oil, Myrrh Oil, Nutmeg Oil, Ylang Ylang Oil, Kalonji Oil. (retails at 550 rs/US ~$6.73)
Ingredients: Hair Tone PV1 Scalp Spray:  Coiffure, Tempus, Arnica Extract, Jaborandi Extract, Saw Palmetto Extract, Amla Extract, Bhringraj Extract, Methi Daana Extract, Harad Extract, Baheda Extract. (retails at 550 rs/US ~$6.73)
Ingredients: Shakintala Hair Cleanser: Sodium Lauryl Sarcocinate, Decyl Glucoside, Coco Glucoside, Aloe Vera Juice, Almond Oil, PEG 150 Distearate, Coco Nut Water, Apple Cider Vinegar, Vitamin E, Keratin Protein, Curd, Milk, Potato Juice, Papaya Juice, Rice Water, Carrot Juice, Tomato Juice, Papaya Juice, Natural Fragrance, Aloe Vera Powder 200x, Guar Gum, EGMS, Seascalp, PQ-10 Saw Palmetto Extract, Soapnut Extract, Neem Oil, Sodium Benzoate, Rice Protein, Green Coffee Derivative, Argon Oil, EDTA, Tea Tree Oil, D.M. Water. (retails at 550 rs/US ~$6.73)