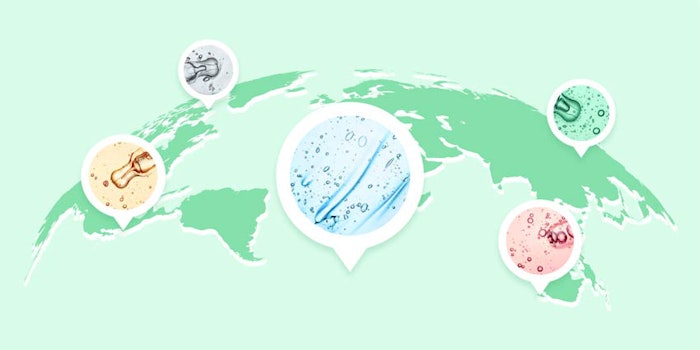 Aloe vera was the most searched skin care ingredient across 37 countries last year, according to Google search data reported by Skincare Hero. The data is representative of the average monthly searches in each country for skin care ingredients from October 2020 to October 2021.
Related: Klarna: 2021 US Holiday Shopping Trends
Following aloe vera, vitamin C, retinol, hyaluronic acid, salicylic acid and glycerin were the next most Googled ingredients.
Some of the most searched questions along each ingredient were inquiries into the safety, effects, proper application and usage instructions of the ingredients.
Skincare Hero suggests the differences in popularity of ingredients in different regions is due to different climates and cosmetics marketing in each area.
Hyaluronic acid was the most searched ingredient in the United States, Canada and Trinidad. Searches for retinol were most prevalent in Mexico, Dominican Republic, Honduras and Puerto Rico. In Central America, aloe vera was the most searched ingredient.
Results were evenly spread in Europe. Retinol and aloe vera were the most popular in Western Europe, while retinol, vitamin C and aloe vera were evenly searched in Central Europe. In Eastern Europe, aloe vera, vitamin C and hyaluronic acid were the most searched ingredients.
Aloe vera searches were most common in South America, but some of the continent's most prominent countries, including Brazil, Colombia and Peru, searched for retinol more than any other ingredient.
Hyaluronic acid was the most searched ingredient in Australia and New Zealand, while neighboring Fiji most often searched vitamin C.
The most popular cream containing aloe vera was the Aveeno Oat Repairing Cream. The Ordinary had the most searched vitamin C product, while CeraVe's Skin Renewing Serum was the most searched retinol product.
Other commonly searched products include Paula's Choice 2% BHA Exfoliant, SkinCeuticals Resveratrol B E and Dr. Jarts Cicapair.